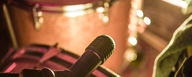 The best microphones for recording drums
Our recommendations
Compared to most instruments, recording drums can be challenging.
Since every recording chain starts with a microphone, check out how LEWITT mics can make your drum sound stand out.
Bass drum mics
The bass or kick drum is a prominent element in most songs. An excellent sounding kick drum will make people dance. So you have to get it right from the start with a punchy, tight kick sound.
Here are our microphone recommendations for getting a superb bass drum sound:
Dynamic bass drum microphone with switchable sound characteristics that allow you to emphasize the click and or the body. It helps to find your desired sound quickly.
Included: Transport bag
Condenser and dynamic in one
Dual-element kick drum microphone with switchable sound characteristics. Phase aligned condenser and dynamic capsules in one housing allow for a wide variety of sounds. Each capsule has its dedicated output. You can mix the signals to taste to fit everything from a warm and boomy Jazz-kick to a tight and clicky no mids rock kick.
Included: 5-pin audio cable with two outputs, Transport bag
---
More stories