Blog
True love for great sound unites us. 
Bob Horn
Bob Horn is a multi-platinum, Grammy Award-winning mixing engineer who's mixed songs for some of the recording industry's most notable artists including Usher, Timbaland, Michael Jackson, Akon, Macy Gray, Neyo, Lupe Fiasco, Brandy, and many others.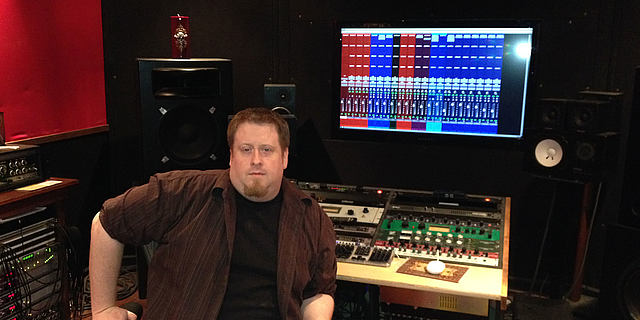 Bob Horn is a multi-platinum, Grammy Award-winning mixing engineer who's mixed songs for some of the recording industry's most notable artists including Usher, Timbaland, Michael Jackson, Akon, Macy Gray, Neyo, Lupe Fiasco, Brandy, and many others.
Bob attended Berklee College of Music in the mid- and late '90s before relocating to Nashville in 1998 to begin his career as a recording engineer. In 2001, he moved on to Los Angeles to pursue a career as a mix engineer. Although Bob's career focus is mixing music, he's also an accomplished musician who plays drums, guitar, bass and piano, to say nothing at all of his involvement in songwriting and production. 2011 saw Bob join forces with his longtime friend and colleague Eric Reichers to design and build the Echo Bar Recording Studios in North Hollywood, CA, where he now records and mixes for his clients.
This was also the place where the huge LEWITT microphone shootout took place. Erik Reichers and Bob Horn were in charge of realizing this mother of all mic shootouts with 11 renowned musicians on over 40 different microphones – resulting in nearly 400 sound samples, 8,000 pictures, 20 interviews, and a full 1.74 TB of data. We sat down with Bob to learn about his experiences at the shootout.
[LEWITT] So tell us something about the shootout...
[Bob Horn] I thought the LEWITT microphone shootout we did here at the Echo Bar Studios went very well. It was a real eye-opening experience to have all of the LEWITT mics here as well the competitor mics. We compared them all and heard them on a bunch of different sources, from trumpet to violin and on to bass drum, snare drum, electric bass, upright bass, and all the other different things. There are some mics where you'd never think to use them on a particular source – and then you hear it, and it just kind of opens up your world with all the possibilities. It's cool to be able to hear things like this even among the LEWITT mics, where maybe there's one that I've always used on a particular source, and now I have another one or two or three possibilities that I can chose from, things I didn't have any idea of before. So it was a pretty cool experience.
[LEWITT] What can you tell us about how you ran the shootout?
[Bob Horn] The shootout was very time consuming: we had three days and 11 musicians and a table full of mics, and we had a quick release mount on the mic stand where we'd just switch them out and get the new one back to the spot where the previous one had been. The biggest challenge was really to make sure that we always had the same level: everything was level-matched, and the mic placement was the same for every mic, if possible. And it was a lot of work – especially labeling and file management, since we came up with 400 audio samples over the course of three twelve-hour days.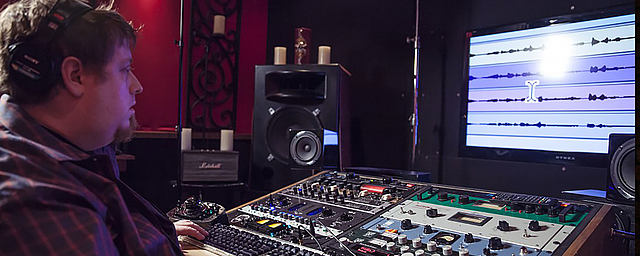 [LEWITT] What did your recording chain look like?
[Bob Horn] Our recording chain for the shootout was really simple. We used Klotz microphone cables between mic and preamp and between preamp and audio interface. The preamp was a Millennia HV3 – it's a really clean and transparent preamp that doesn't put any color on the sound, which makes it really great for a mic shootout because you're really just listening to the microphone rather than to the preamp. For our interface, we used the Apogee AD16x recording at 96kHz/24bit into Pro Tools.
[LEWITT] Please tell us a little bit about the artists who performed at the shootout...
[Bob Horn] The artists we used for the shootout were terrific! We had a wide range of people from different genres: a jazz trumpet player, pop vocalists, a upright bass player used to playing everything from classical to bebop, a rock guitarist... It was really nice to cover them and their different music styles along with all the different sound sources. Besides which, it was just really cool to experience all these unbelievably professional musicians, and the instruments they brought to the shootout sounded great. So we had always a great source to record.
[LEWITT] Which microphones stood out?
[Bob Horn] The LEWITT mics definitely held their ground, and some of the new models that I hadn't tried out before were surprising – like the DGT 650 USB mic: that mic is really serious! And overall, the LEWITT mics won on almost every source – the LCT 940 sounded good on everything, even on snare drum. A lot of the handheld performance mic by LEWITT were really cool and sounded like studio microphones, and some of them actually sounded better than the competitors' studio mics even though they were stage mics. So the LEWITT stuff really kicked ass!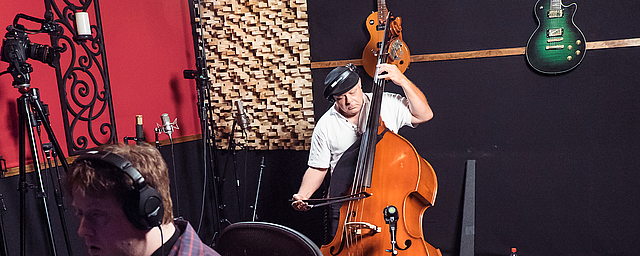 [LEWITT] Do you think that LEWITT mics have a particular sound, and if so, how would you describe it?
[Bob Horn] LEWITT microphones definitely have a sound – to me, it's almost like a polished, finished kind of sound rather than a raw one. A lot of the time when I'm using LEWITT mics, I find that I don't have to dig in so much with EQ and processing. If I want, I can just leave it raw right off the mic, put it in the mix, and go with that for a while … later on, if I really want to fine tune it, I might EQ something. But recording with the LEWITT mics is great: for example, you can just put them on the piano and you get this nice, big, warm piano sound that's also clean and very open on the high end – you kind of get everything at once. So they've made their mics very forward-thinking and really clear. The LEWITT sound – I just describe it as perfect.
Eric and I, we both really like the LEWITT mics … not just because we officially endorse them, but because they sound great, and we put that to the test day in, day out. The drummers and guitar players coming through here always ask what microphones we're using, because they always sound great. We didn't buy a lot of those standard microphones that you'd expect, the ones people have at every single studio, because we didn't need to. Quite frankly, if we'd done so, they'd be sitting in the closet and we wouldn't use them, because we're using the LEWITTs. I mean, we have a couple of old mics that are very rare, like ribbon mics, but everything else is LEWITT – we're happy with them and they saved us a ton of money since they're competitively priced. As a studio owner, I can say that that really helped!
[LEWITT] Who do you think will benefit from the shootout?
[Bob Horn] This shootout benefits not only professionals but also musicians and beginning recording students. Especially when you're learning what mics sound like, the shootout is a great online tool to refer to. Maybe your favorite microphone on the acoustic guitar lately has been the 414 … then you can go and compare it to other competitors' mics as well as the whole LEWITT lineup and find out for yourself which mics sound similar or better. And even for pros who've been using the same mics for the past two decades, it really gives them a chance to find out for themselves how there are other options that probably sound better than the stuff they've been using for years. What they're used to are typically those traditional favorites that are 20 or 30 years old or even older, but there's a lot of cool new stuff out there, and LEWITT is definitely bringing it to the table.
Go to the LEWITT SOUND BOOTH
Want to learn some of Bob's great tricks?
https://prostudiolive.com/archive/mixing-seminar-bob-horn/139
Links
---