Blog
True love for great sound unites us.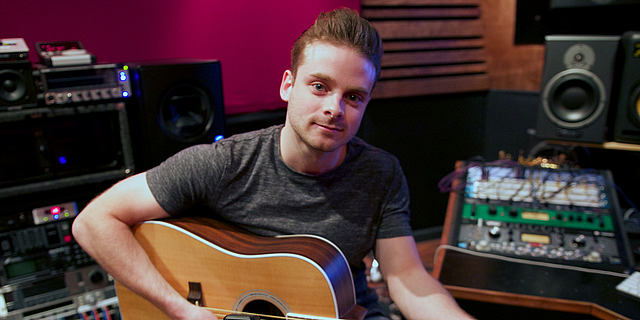 Dan Richards is a guitarist and composer with over decade of experience working in the music industry. He's been on 4 world tours with UK boy band One Direction, playing stadiums and arenas across the globe as well as appearing in three movies.
Dan also has a notable television career, with appearances all across Europe and America in shows and broadcasts including Saturday Night Live, The Royal Variety Performance, The Today Show, and the American Music Awards, to name just a few examples. Dan has also performed alongside legendary Rolling Stones guitarist Ronnie Wood in the live final round of The X-Factor.
When not touring, Dan frequently writes his own music – and he's also started playing guitar in a new electronic pop project called Tux Bolo. Tux Bolo is a three-piece dance-pop group made up of Dan Richards, Lance Conrad, and Doug Louiselle, and their debut single, Shame on Me featuring Ashley Dubose, has already been released.
We were lucky enough to talk with Dan about his experiences as session musician and his work as a producer.
[LEWITT] How much practicing do you do a day?
As a player, I used to be playing at least six hours a day. My usual practice ritual was that I'd do some scales to warm up, then I'd look to modes, and then I'd typically do some transcribing. Not necessarily writing anything down, but listening to the legends, working it out, and then playing it back. Doing that, I found, lets your brain digest it better so that it comes out of you naturally when you have to play it.
[LEWITT] What advice would you give to somebody who's looking to be a good session player?
Become a good session player is kind of a combination of things. It's not just about your playing ability. You also have to be fast in terms of getting the right sound. You know, you have to be good with someone's particular sound – so you can just dial it in, and there it is. Your people-skills are also very important. Because it's about more than just being able to play the parts: you also have to be able to connect with a person at a level where you're on the same wavelength. After all, people quite often want to play with someone who's also their friend.
I used to go out and play with everyone in London, just to get my name out – because if no one knows who you are, you won't get any gigs. So the main thing is to play as much as possible; if someone offers you a gig, say yes! Be a person who says "yes!"
[LEWITT] Do you work most of the time as session musician or as a composer?
At the moment, I spend half of my time as a songwriter and the other half as a session player – although I call myself a producer in the sense that I produce a song to a certain degree in terms of melodies, top lines, harmonies, and then I usually work with a mixing engineer.
[LEWITT] What can you tell us about your recording setup?
With a lot of the songwriting stuff that I'm doing right now, the setups are quite simple. I use a MacBook attached to a Universal Audio Apollo, into which I plug my LEWITT microphone. I absolutely love my LEWITT mics. The LCT 940, in particular, is a great piece of equipment: its ability to blend between the tube and FET settings creates a whole range of tonal possibilities, it's like 10 microphones in one! If I'm recording someone else, I usually play around with the dial-ins 'til I find a sweet spot. A lot of the stuff I record is actually me doing the top-line stuff, and I like it to set it fully to tube because I'm so fond of that warm sound! But a friend I recorded recently sounded better with a 50% tube and 50% FET split. So the great thing about the LCT 940 is that you can find the right sound for each situation, and that's why it's my main microphone.
---