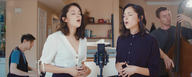 Every BILLIE EILISH Track in 3 Minutes
Medley by Kurt Hugo Schneider feat. Kina Grannis
In 2007, Kurt Hugo Schneider was a Yale math major and chess prodigy who began uploading videos of music mashups he performed with his childhood friend Sam Tsui. 
Over the years, Schneider's skills as a multiple threat - singer, musician, arranger, producer, editor - and his knack for arranging crowd-pleasing covers with a twist yielded many fans. The self-taught musician recently reached 11 million subscribers.
Most recently Kurt Hugo Schneider did a pretty cool medley of every track on Billie Eilish's new album with Kina Grannis.
---
Related products
LCT 940
Blend tube and FET circuit at any ratio
Studio centrepiece
12AX7 tube
Remote control and power supply in one
Multi-pattern design
---
More stories