Blog
True love for great sound unites us.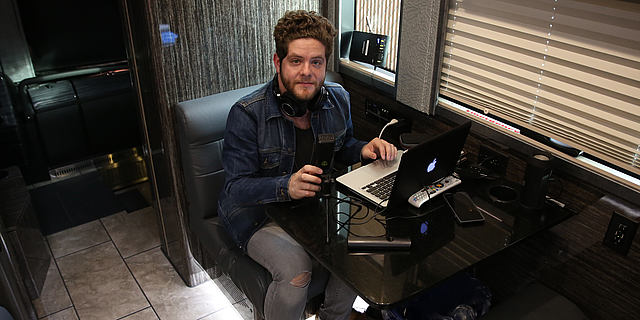 LEWITT met Josh Lovelace from the band NEEDTOBREATHE on their Tour de Compadres, and we talked with him about the tour and his mobile recording setup. 
Sibling songwriting duo Bear and Bo Rinehart have been penning rootsy, uplifting tunes together for the better part of the past two decades, and with help from bassist Seth Bolt and keyboardist Josh Lovelace, they've led NEEDTOBREATHE to tremendous critical and commercial success. Their Tour de Compadres supports one of the top-selling albums of the summer, Hard Love, which debuted in July at No. 2 on the Billboard Top 200 chart, just behind Drake's Views. The Atlantic Records release also sat at No. 1 on Billboard's sales charts for rock albums and alternative albums. The music on Hard Love is uplifting in the spirit of great rock 'n' roll and R&B.
Interview
[LEWITT] How's your tour going, and what are you doing in your spare time when the band isn't performing?
[Josh Lovelace] It's a 55-city tour, so it's been busy. It's been the most fun tour we've ever done so far, and the idea behind the name – Tour de Compadres – is that we've brought our best friends and a bunch of bands we love on tour with us. You know, you're normally bored during the day when you're on the road, but on this tour, we've got some people with us who we can do fun things with. So while we're out here, we're always working: we're working on music, demos, new songs, and different things for fans. But we're also able to have a good time with the people who've come along with us, and that makes the whole thing way easier.
[LEWITT] Speaking of making music, can you tell us about your recording setup?
[Josh Lovelace] We all have Macs, we all use logic, and it's been good for us, being able to go back and forth with software and everyone having the same thing. And then we have different things for on the road – like, everybody kind of has their own little setup that they prefer, whether it's for overdubs or grabbing a quick idea. You'll always find somebody in the front or back lounge of our bus or in the dressing room with their headphones on, messing with sounds. We all have different things that we like to do, and that inspires us.
[LEWITT] What plugins are you using on the road?
[Josh Lovelace] Actually, I'm completely on hardware when I'm onstage. I don't use a computer there, which is nice. This setup limits me in some ways, because I have to get the right sounds from the keyboards I use. But I have two Nords there that give me all the sounds I love. 
When I'm using my computer setup, I love Omnisphere. And what was really cool about being introduced to LEWITT's DGT 450 was that I'd always been looking for something that I can grab real quick if I want to go into the woods and record. I needed something that was easy to hook up to make high-quality recordings with, something that didn't take 20 minutes. Because by the time you've got everything set up, your inspiration is gone. I love having a microphone that I can take along with me and that also serves as an interface. It just makes my life way easier, being able to get down to what I really want to do – which is to make music.
So on the road, I use the DGT 450, which has been cool. It's very compact, I can put it into my backpack and go everywhere with it, and it's high quality. It's great because when you're on the road, you want to get that idea down, but you also want to be able to take it into your home studio or into a bigger recording setup. The way we've been able to use it, even some of the stuff that we've done in the front lounge on our bus might possibly make it onto the record, which is cool. You can record something very quickly in high quality and send it straight off – it's awesome for that.
[LEWITT] What do you think about the DGT 450's fidelity?
[Josh Lovelace] That's awesome, too, because it's really clean and clear. It's very versatile, you can do a ton of different things with it, and it's great to have a condenser microphone that's also an interface – that's a super-great feature, really handy to have. It's great because the sound quality is very good, and because it's very usable in any kind of situation. 
[LEWITT] Do you really think the audio quality is good enough to make it onto the record?
[Josh Lovelace] I definitely think it is, and we're that kind of band – you know, once you're inspired and you've put something down, it's hard to beat it! So we were looking for something where, when an idea comes to us, we can get it right the first time, and that's what's great about this microphone: you can do that. You can put it down and use that material to accomplish everything you might also do in a multi-million-dollar studio. It's awesome that it has that versatility.
[LEWITT] Anything else you want to say about your mobile recording rig?
[Josh Lovelace] I think that, for all of us, it's fairly simple: we want something that's easy to use and that's musical, so that we can get the best out of what we do. None of us is, like, super-high-tech … you know, we just love music, love creating, and love trying to do new things. So for us, something out of the box that lets us just get down to making music – like the DGT 450, with its clear, crisp, and great sound quality – is the best product we can possibly have!
Links
---