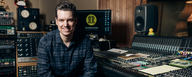 Studio Insights
The LCT 840 at Nashville's Rukkus Room
The Rukkus Room is a multi-room facility opened in 2004 that was originally designed from the ground up as a recording studio by Gene Lawson.  Each studio is a completely separate building, which allows for total isolation. The studios are a combined 8,000 square feet. 
Owner Jamie Tate is a Grammy and Emmy award-winning recording engineer, mixer and producer. Jamie has worked on many popular recordings including dozens of hit records and chart-topping songs, making him a highly sought-after mixing engineer and producer. 
[LEWITT] Here we are with Jamie Tate. Founder, owner, and chief engineer  of the Rukkus Room. Jamie, please tell us a little bit about some of the artists you've worked with. 
[Jamie Tate] Let me think. Taylor Swift, Alan Jackson, Thomas Rhett, Justin Moore, Michael Bolton, MC Hammer, Tim McGraw… I can go on and on. Lots of people. (laughs) 
[LEWITT] What is your experience with the LCT 840 tube microphone? 
[Jamie Tate] It's a beautiful sounding mic and I recently used it for the lead vocals for a new artist on Sony. Her single is going to come out soon. She sounded so good on that mic, we used it for her final vocals. You'll hear those upfront and really loud. The LCT 840 has this beautiful top end that just suited her voice so perfectly. And this is shooting out against C12's and U47's, and various other high-end microphones. It's just the one that sounded the best, so that's what we used. A marvelous mic. 
[LEWITT] Tell us how you got into the studio business, and maybe a little bit more about your background. 
[Jamie Tate] I wanted to be a recording engineer since I was in sixth grade, I've never wanted to do anything else. Since then, it's been my sole focus. How old are you in sixth grade, about ten or eleven? I came down to Nashville from Cleveland, Ohio after high school. I went to MTSU - that's Middle Tennessee State University. They have a great recording program out there. And I was one of three guys in my graduating class to get a job in the industry. I was working at a studio and I think I worked there for 7 years, booked solid. The studio closed, so I needed a place of my own and I remembered this place was sitting here empty. I moved in and here I am, 15 years later, still working. They'll have to drag me out of here, I love this place.  
[LEWITT] So how did you get your first big break? 
[Jamie Tate] I was assisting on a jingle session for Disney World and the lead engineer called in with heart problems. He was in the hospital and I had already set up the session. It was about 15 minutes until the session started. I had already gotten sounds of musicians, and they just said: "It's yours!" I was 20 or 21 and I did the session. And no, I wasn't being very transparent about it. Nobody knew that it was my first big session, and here I am. I continued to work. And then I got another job of mixing Tanya Tucker. The A&R person from Capitol Records didn't know that I was the intern, and he hired me to mix some stuff for Tanya Tucker. I did it and they loved the mixes, and that's how my career started. 
[LEWITT] What you're really saying is that you need to have confidence in yourself? 
[Jamie Tate] Yeah, and a lucky break. That guy with the heart issues was okay, by the way. It was just indigestion. And when you finally get that break, be ready and be confident like you said. It all worked out for the best. 
[LEWITT] What advice would you give to somebody who's looking to be a recording engineer? 
[Jamie Tate] You're going to have to pay a lot of dues, you're going to have to do it for the pure love of it. Hopefully, if you're good at it, if you keep at it and you're committed to the job, if you're reliable, which is a big deal, your break will probably come your way. You kind of have to be in a recording center. Nashville or Nashville, or Nashville? I don't know. Are there any other recording centers anymore? 
[LEWITT] Well, they do have studios in Los Angeles, New York, and Miami.  
[Jamie Tate] I've heard of those places. So, yeah, persistence is a key. You have to be reliable. You have to have a lot of passion. You're not going to be in this for the money, you're going to be in this for the passion. I have record awards all over my wall, I have a Grammy, and dozens of number ones, but I still do projects for free just because I love the music. That's why I'm still working. I'm willing to work for free and do projects I love, and that in turn gets me the great paying gigs, because people know why I'm doing this. I'm not just doing it for the glory, there is none, or the money, I'm doing it because I absolutely love this. 
---
Related products
LCT 840
Full-bodied tube sound with smooth high-end
Classic tube sound with modern technology
12AX7 tube
Remote control and power supply in one
Multi-pattern design
 
---
More stories