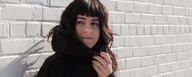 Terra Naomi
Going up the ladder of success as independent artist
Terra Naomi is an award-winning singer-songwriter based in Los Angeles, California. She's the winner of the inaugural YouTube Award for the Best Music Video, and the only new artist invited to perform at the Live Earth at Wembley Stadium alongside artists such as Madonna, the Black Eyed Peas, John Legend, David Gray, and the Foo Fighters. She was called "the consummate singer-songwriter" by veteran music publisher John Rosner, and "the voice all women need right now" by Women in Rock. Terra got only praise from Billboard, Forbes, Popdust, INTO, Broadway World, and the L.A. Music Blog for "Machine Age", which is a meditation on the culture shock of post-election America. This dystopic anthem was named "the first truly great song to come at the expense of the world's collective sanity" by Jubilant. 
[LEWITT] You have a new album coming out. Tell us about it...
[Terra Naomi] Sure! I'm planning the release of the album I recorded last year at Wilco's studio in Chicago, after raising the budget on Indiegogo. I'm not exactly sure when the album will come out, but I've already shared it with the people who funded it, and they're really enjoying it, so I'm excited to release it to the rest of the world.
[LEWITT] Some of the vocal tracks used LEWITT microphones on it. Tell us about your experience with LEWITT.
[Terra Naomi] We used a variety of microphones—whatever sounded best on my voice for the particular song and arrangement—including the LEWITT FET condenser mic, along with some other top microphones. The tone was beautiful; I wanted a clean, pure sound. When I heard the quality of the LEWITT mic, which is quite affordable, compared to these other very expensive vintage mics, I was impressed.
[LEWITT] You did this great contest. The "Nothing to Hide Remix Contest", can you tell us a little bit about that?
[Terra Naomi] Yeah - I was releasing the first single from the album, "Nothing to Hide", and I wanted to get some remixes because I thought that'd be a great way to share the song with different audiences. I love hearing new versions of acoustic songs, when the production sounds completely different. So, I googled something about remixes and the Splice platform came up. I wasn't familiar with it, but I got on there and had a look, and saw this incredible community of up-and-coming and already well-known producers and remixers. Splice provides access to all kinds of plugins and production software that would otherwise be out of reach to a lot of people, and they also host remix contests. I provided the stems for "Nothing To Hide" and people created their own versions, many of which were really excellent! We ended up with about 200 entries and it was really hard to choose the winner, but I had some help from my friends Great Good Fine Ok and DJ Sasha Grey. I chose the LEWITT LCT 440 PURE for the grand prize.
Listen to the winning "Nothing to Hide" remix by Nalestar below 
[LEWITT] When you're performing live, you have the LEWITT MTP 550 DM handheld microphone. What comments have you had about that microphone when you performed live?
[Terra Naomi] The clarity. One thing about my voice that people really appreciate are the nuances. I get very subtle, and I also get very big, and the mic can handle both ends of that spectrum. I love the studio, but playing live is my favorite thing and really what I'm best at and where I'm happiest, and I play solo, with acoustic guitar and piano, so vocal sound is a huge part of my performance. 
[LEWITT] Have any sound engineers made any comments about the microphone?
[Terra Naomi] Yeah, just that my vocals are strong and easy to mix. I always get good feedback from sound engineers, even though I can be demanding. I want the experience to be great for the audience.​​​​​​​
[LEWITT] Let's switch to a different topic. What's the most common piece of advice you've been given, and how has it been helpful?
[Terra Naomi] The most important piece of advice I can offer took me a really long time to learn - you absolutely 100% must trust yourself above anybody else. Asking other people for their opinion is fine, if it's someone you really trust, but it's got to feel right to you. That's the most important thing. You have to find a quiet space in your mind, and it's hard because there can be so much feedback, especially in a studio recording situation. Hopefully, the people in the room with you are people whose opinion and taste you trust, but I've definitely had the experience where things I recorded in a studio were not the way I wanted them to be. And even with producers I love, we all have different ways that we want to hear ourselves. At this point, I'm really direct, and I trust my own instincts above anybody else's. That, for me, is the most important thing. In the past, I didn't understand that, and I let other people tell me what things were supposed to be. Career-wise, sound-wise, everything. Those were the moments I regret the most, and now it's something that I try to share with other artists. Always trust yourself first.​​​​​​​
[LEWITT] That's very important. What it comes down to is authenticity. If you're doing what other people want you to do and it doesn't feel right for you, it's not authentic.
[Terra Naomi] Yeah, and the thing is, ultimately, you can't control who's going to like it or not like it anyway, but at least if you create something that is authentic to you, then you're going to like it, and you will find a home for it, you'll find a place for it. If it's something that you stand behind, that you love, you'll promote it until it receives the audience it should receive. But if you record something that you don't like, that isn't you, only because other people have said "this is what you have to do right now", then you're left with nothing. If things don't go well with something that you love, then you can promote it until it finds a home.​​​​​​​
[LEWITT] As an independent artist who actually has a sustaining career, do you use social media to grow your fan base, or what is it that you've done that allows you to continue going up the ladder of success?
[Terra Naomi] Social media is an incredible tool. It's where I got my start, just posting things on YouTube. I didn't understand any kind of strategy, I didn't have any budget, I didn't have anyone helping me. I just put songs on YouTube. It's a little different now; there are people whose whole livelihoods are based around strategizing and marketing on these different platforms. It's much harder at this point, I think, to break through on your own, but still possible. Social media is super important. I know how to do it, but do I always do it that way? No, I don't. I don't love having to promote myself all the time. There's a whole bunch of stuff I don't do because I don't want to spend my whole life as a social media marketer. The most important thing is to be consistent and put your music out there. It might take a little while longer, but it'll be heard by somebody. A lot of things have to go right, for a large number of people to actually discover you. All kinds of stars have to align. It's not easy, but if you believe in what you're doing, just do it. Whatever the outcome is, is what it is. I mean, there's a ton of good music out there that's never going to reach a broad audience, and that's just the way it is. There are incredible artists, in all kinds of arts. There are brilliant people in every field, that will never be recognized the way that they could be, because so much of mass acceptance is a lot of luck, a lot of timing and who you know, and if you're in the right place at the right time. All we can do is to become really good at whatever it is that we do, put it out there on a consistent basis, and then let go. And to love what we're doing, whether one person hears it, or a million people hear it. And find a way to be happy during that time, because there's no way to control the outcome of this, really. Aside from doing your best work and putting it out there.​​​​​​​
[LEWITT] Are there any final comments you'd like to make about LEWITT before you go?
[Terra Naomi] It's funny, I recently went to a well-appointed studio in L.A. and recorded several tracks, and I don't love the mix, I don't love the way the vocals sound. I got all the session files, and I sent them to an engineer friend. And just today I had the thought to re-record the vocals in my apartment with my LEWITT LCT 540, so it's funny timing that we're having this conversation about LEWITT mics right now.​​​​​​​
Links
---
Related products
LCT 540 S
Incredibly detailed sound on vocals and instruments
Self-noise below the threshold of human hearing 
Ideal for extreme processing
Outstanding dynamic range
Cardioid polar pattern
---
More stories