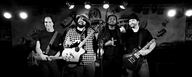 Jacob Needham & The Blue Trees™
"When I hear the name LEWITT, "microphone to the ultimate" is what comes to my mind."
Jacob Needham & The Blue Trees™  is a Southern Americana Groove Rock band out of Birmingham, Alabama that's now based in Nashville, Tennessee. The band was formed in 2015 by Jacob Needham and James Cody, and then Ben Trexel was added on bass and RaShaun Whetstone on drums. The Blue Trees have developed a signature style that blends rock, pop, alternative, funk, and electronic elements. Their debut album Procrastinated Memoirs, was released in April 2018. 
In the recording process of Procrastinated Memoirs, LEWITT microphones have been important tools: "The LCT 550 and the LCT 640 have been awesome mics for vocals. In my opinion, there's no other mic out there that can be compared to their sound and the clearness and the crispness we get when we use these LEWITT mics for vocals. It's spectacular." says Jacob Needham and James Cody adds: "Basically what I noticed, especially with this new album where we have a lot of acoustic-type instrumentations in our songs, is that getting a good acoustic sound is not the easiest thing in the world. That's no secret. But I found that using the LCT 640 on my Martin guitar sounds just incredible in conjunction with the line-in. I used it mainly in cardioid mode and really didn't have to do much EQ-ing, because that mic captures everything natural about the guitar. It's just magic. I can't express enough how it's going to be hard to ever want to use any other mic but the LEWITT for doing acoustics, guitar specifically, so I'm very grateful for that."
Ben Trexler concludes: "Yeah, they both sound fantastic! I'm running them through the Focusrite ISA One, which is not a very expensive preamp, but it just happens to blend very well with those microphones and requires very little EQ since we get a very natural and transparent sound right out of the bag. They're absolutely worth three times the price!"
Alabama Baby by Jacob Needham & The Blue Trees™
---
Related products
LCT 640 TS
1" multi-pattern studio microphone
Full, crisp, and well-balanced sound
Revolutionary Dual Output Mode
POLARIZER plugin to create any pattern after the fact
Stereo capabilities
Multi-pattern design
LCT 540 S
1" true condenser studio microphone
Incredibly detailed sound on vocals and instruments
Self-noise below the threshold of human hearing 
Ideal for extreme processing
Outstanding dynamic range
Cardioid polar pattern
---
Related content