Blog
True love for great sound unites us. 
HOWHY is a funk/soul/disco band from Shanghai, China. Lead vocal Tony, saxophonist Jimmy, guitarist Fatz, keyboardist Tina, bassist Louis, drummer LeoLeo joined together with a vibrant passion for groovy music since 2011. HOWHY's musical journey was inspired by Prince, P-Funk, Tower of Power, Earth, Wind & Fire, Kool and the Gang, as well as many legendary artists, the band's retro vibe forms waves of beats on the audiences' eardrums. HOWHY is perhaps one of the most dynamic bands amongst today's artists in China; the funky rhythms always light up the stage as the audiences swing with the groove.
We met HOWHY for a short interview to learn more about the band and their experiences with LEWITT microphones:
[LEWITT] HOWHY has been established for almost 10 years, it's not easy for any band to last that long. What keeps the band keeps going forward?
[HOWHY] Understanding each other and sharing common interests. Surely there are certain differences in terms of what we like, but there are intersections, which is very important. There are also conflicts, but some conflicts in the process of music creation are quite healthy. It's important for us to share the same value, not just the taste of music, but also values in life. The band members need to get along well in order to go on.
[LEWITT] Funk music has niche audiences in China, how did the funk music scene change in the last 10 years?
[HOWHY] It have changed a lot this year because of The Big Band show. Two of the bands in the show are funk style. We know some funk or groovy bands all over the country, and they are also great. In fact, most of the credits for the growth of the entire underground music scene must go to this show, which is a good opportunity for us.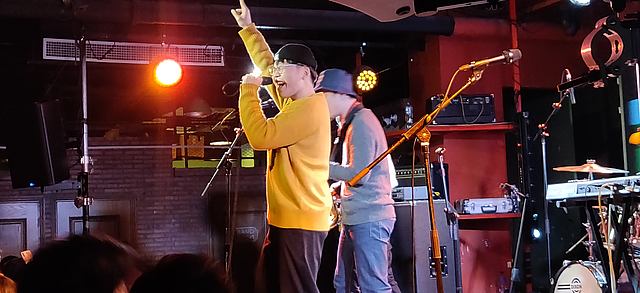 [LEWITT] We are impressed by HOWHY's live performance, it's always quite cheerful, even your audience often dances with your music. How do you drive the atmosphere?
[HOWHY] First of all, we have to be groovy ourselves. We interact a lot with the audiences, such as dancing. We made some dance moves that are easy enough for the audiences to dance along. We also hand over the microphone to the audience, it's called "shout and response", which is originated from gospel music, and funk inherited that legacy. We even prepared a dance session during the previous tour. When I was learning to dance, I introduced our band to my dancing teacher, and he just loved our music, even used our songs in dancing classes. The teacher actually approached us many years ago for cooperation, they would like to have some live bands to perform some classics, such as James Brown covers, to accompany their dance. It's quite authentic street culture. Turned out that they didn't make it, but we did. We invited the dancers to our gig, and we prepared two songs for them to dance along on stage. To our surprise, many people from the street dancing circle came to watch the show. We have always wanted to do "Soul Train", which is a famous groovy live music TV showin the U.S. back in the days, where there were live bands and dancers, and we made it on that day, which is pretty cool.
[LEWITT] As an incredible live band, what kind of gear do you bring to every gig?
[HOWHY] We bring guitar, bass, saxophone, cymbals. Me as the lead vocal/guitarist and the saxophonist for backing vocals, we bring our own microphones.
[LEWITT] What role does the microphone play in your live performance?
[HOWHY] Pretty important role. Like I said earlier, we hand over microphones to the audience during our performance, even some of the people in the audience would just grab our microphones to shout. Because we have many catchy lyrics that echo each other, such as "What time is it?" and the audiences go "It's time to funk!". People who know it would get very excited to shout out in response.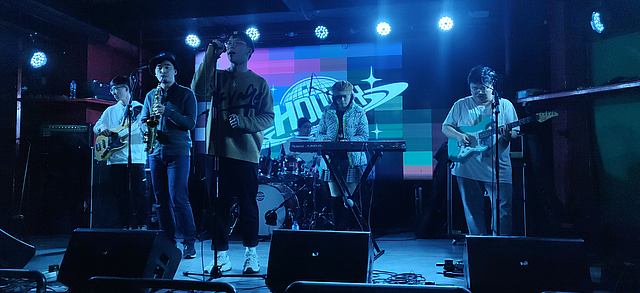 [LEWITT] How did your feeling change on stage since you are bringing your own microphone to every gig?
[HOWHY] First of all, we understand the characteristics of the microphones we bring, so there won't be any unexpected situations. What we fear the most are unexpected situations during the performances, such as breaking guitar strings or microphones being carelessly maintained and are unstable. We know that the microphones in many live houses are really worn out, because some musicians like to shake or smash the mics and so on. The entire performance would be badly affected if something unexpected happens. Another very important point is hygiene!
[LEWITT] What can we expect from HOWHY in 2020?
[HOWHY] We plan to release the second EP next year. This EP will include four to six tracks that we have been composed and arranged more sophisticated, and we have always wanted to record them. These songs are talks about life and humanities, more introspective, not as hectic as the songs like "It's Time to Funk" and "Sleepless night" from the first EP. The new EP will be more soulful, but there will also be some disco. We are currently recording with the strong support from LEWITT – having the drum mic kit has definitely enhanced our recording, hopefully the drums recorded this time would improve greatly from the previous EP. The new EP will be released around the first half of 2020, and there will be tours.
[LEWITT] One important tool for recording is the microphone. What qualities should microphones feature to get your ideal sound? What are your favorite microphones?
[HOWHY] Indeed, microphones are very important for recording. Each microphone has its sound characteristic and EQ. For our music, we need appropriate microphones that are able to record the sound that we want to have. For instance, some microphones are not appropriate for drum recording, while LEWITT's DTP BEAT KIT PRO 7, which is an award-winning drum mic kit, is an excellent match for our drum recording.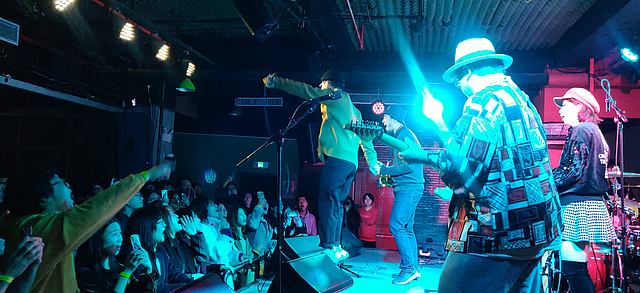 [LEWITT] You have a full-time job as we learnt, how do you manage your time between the job, the song writing, and regular gigs?
[HOWHY] We are all quite busy at work, and band rehearsal is a relaxing activity for us; like a hobby. Everyone feels happy to get together to play some music after hard work. We usually gather after work or on weekends for rehearsals and gigs, they don't take up too much time, but we must ensure the efficiency of each rehearsal. The work-music balance is still okay for the moment, and everyone is able to coordinate time with each other.
[LEWITT] The band just finished the first tour recently, how do you feel about it?
[HOWHY] As mentioned earlier, we had a kind of "Soul Train" performance in Shanghai during the tour, a circle of street dancers formed around and battling in the center, it's called cypher, which was quite mind-blowing. At that moment, we were playing music for the dancers, and it is what funk is all about – to serve the dancing and people who want to move. Such performances are even hard to find in the U.S. today, let alone in China. We will keep discovering how we can develope such a style in the future. We were also pretty impressed in Suzhou and Hangzhou during the tour. The equipment and staff on site were very professional, including the microphones, the amps, and the sound tuning. These are all the necessary elements to enable a perfect stage and performance.
[LEWITT] Are there any final comments you'd like to make about LEWITT?
[HOWHY] Hope LEWITT great success in China!
---