Peter Michael Escovedo III
"LEWITT microphones are perfect all-round mics!"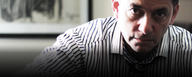 Peter Michael Escovedo III is an Emmy-nominated musical director/producer and has earned recognition not only as a percussionist, but also as a producer, singer, songwriter, and television personality.
Peter Michael (named after his father, percussionist and original Santana member Pete Escovedo) has contributed to countless world tours, recordings and television productions.
He's produced television shows and written both film music and television show theme songs, as well as composed, arranged, and produced music for various artists – and he's currently releasing a new E. Family album featuring Joss Stone, Prince, Earth Wind & Fire, Gloria Estefan, Raphael Saadiq, and Israel Houghton.
His TV performances as a musical director include working with Justin Timberlake, Mos Def, Jessica Simpson, Baby Bash featuring Franky J., Mya, Earth, Wind and Fire, Heart, Chaka Khan, Michael McDonald, Kenny Loggins, Stevie Nicks, and Keith Washington, to name just a few.
He's recorded with Barbra Streisand, Joss Stone, Earth, Wind & Fire, Kenny G, Santana, Patti LaBelle, Stevie Nicks, Lionel Richie, George Michael, Marvin Gaye, Taste Of Honey, J. Spencer, Israel Houghton, The Harlem Gospel Choir, and many others. 
Peter Michael has this to say about his LEWITT LCT 240: 
"When I record percussion, I don't want to spend time testing mics for different instruments. That's why I love the LEWITT LCT 240. It can handle the 100 Hz coming off the body of a conga drum while still allowing the 1.5k of the slap to resonate as well as the 10k of the shakers and triangles to give you that beautiful sizzle on top. It's a perfect all-round mic – in spite of its low cost."
Peter Michael is also a huge fan of the DGT 650, and he recently featured this versatile USB microphone and interface in a video on YouTube:
---
Related content