Common Kings
"LEWITT gives you the sound of who you are as an artist!"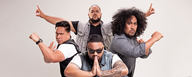 Common Kings' style of music is a collection of inspirations orchestrated into an array of head rocking beats, feel good vibes, and emotional fever. Their crazy, fun-loving attitude compliments Common Kings' live sound, producing phenomenal pop hits with rock, reggae, and R&B influences. These influences originate from each band members love for various genres, and widespread knowledge of music.
Lead singer JR King, guitarist Taumata Grey, bassist Ivan Kirimaua, and drummer Jerome Taito grew up in dynamic households filled with vibrant passion for music. The Kings individual musical journeys were inspired by artists like Musiq Soulchild, Raphael Saadiq, D'Angelo, Van Morrison, Stevie Wonder, George Benson, Jim Croce, Michael Jackson, The Who, Led Zeppelin, Gypsy Kings, Earth Wind & Fire, Maroon 5 and many traditional artists from the islands. The culmination of these musicians explains exactly who the Common Kings are. Where everything comes to a point is through lead singer Junyer King.
Junyer is perhaps one of the most powerfully impressive vocalists amongst today's leading artists. Born with this natural, untrained raw-talent, his singing ability seems boundless, as he amazes listeners with a wide range of belting notes and soulful passion. His humble demeanor off-stage needs no introduction as to when the band is rocking out on-stage.
We met the Common Kings for a short interview and asked them about their experiences with LEWITT microphones:
[LEWITT] Why did you choose LEWITT microphones?
[Tamata Grey] What's great about LEWITT is that it amplifies the voice of who you are as an artist. With LEWITT mics, you get to hear who you are with its clear tone and clarity. I love the LEWITT mics. LEWITT gives you the sound of who you are.
[LEWITT] Can you tell us a bit about one of your recent projects and how LEWITT was involved?
[Tamata Grey] Recently we recorded 3 tracks with the LEWITT LCT 840 tube recording mic and were so pleasantly surprised how warm and fat Junyer's tone was. We went straight to the board without having to go through an external preamp. The LEWITT blew them away. We cut 3 songs in one night and wanted to keep going. We never do that. We didn't have to add a lot of stuff to the track like we had to do with other mics. We are so confident that we now have the perfect vocal mic. The LCT 840 has crisp tone, great body, and exceptional clarity. The mic inspires the band. What great quality. The LCT 840 sounds amazing.
[Junyer King] Not only do we love to record with LEWITT, it's also our favorite choice of mics to use when we perform live!
Watch Common Kings performing an acoustic version of their hit Kingdom Come on the LCT 550:
Links
---
Related content