Blog
True love for great sound unites us.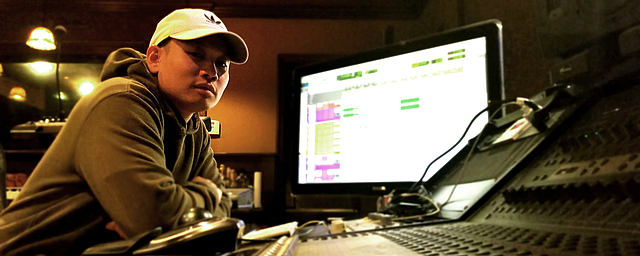 Kyle Kashiwagi is a recording engineer and studio manager for the Stereotypes. The Stereotypes, founded in 2003, are an R&B, hip hop, and dance production team that includes Jonathan Yip, Ray Romulus, Jeremy Reeves, and Ray Charles McCullough II. Together with Kyle Kashiwagi, they've worked with artists such as Bruno Mars, Fifth Harmony, Justin Bieber, Nelly, Meghan Trainor, Chris Brown, and many, many more.
[LEWITT] Please tell us a bit about your experiences with LEWITT microphones…
[Kyle Kashiwagi] The LCT 640 is our go-to microphone and a pretty versatile piece of equipment that can handle a wide range of sounds, from a soft female vocal to a rap or hip-hop vocals. It sounds very clean and has a great-sounding low end – as in: it never gets too muddy. And we've been using this mic for 6 years now, which points to another reason we use LEWITT: all their mics are reliable!
[LEWITT] What artists have you recorded lately with the LCT 640?
[Kyle Kashiwagi] Head engineer RD has recently been recording Meghan Trainor, Tinashe, Miguel and Super Duper Kyle – all using the LCT 640. What I like most about this mic is that it always cuts through very easily. We often have artists and songwriters saying that this mic provides radio-ready vocals, and we always get nothing but positive feedback on it. A lot of our songwriters are jumping from studio to studio, so they're used to the regular commercial studio microphones. They're not used to the LEWIT mics, but once they hear their tone, they automatically fall in love with them.
[LEWITT] What recording chain are you using?
[Kyle Kashiwagi] Our recording chain is the LCT 640 going into a Chameleon Labs 7601 into a Distressor. From there we do just a little bit of compression, and we've already got what we want.
[LEWITT] You also use the LCT 940: Could you please tell us when you've chosen this particular mic?
[Kyle Kashiwagi] It's very versatile since you can blend from FET to tube. We often use this mic's tube setting when we want warmer vocals.
[LEWITT] What do you use the DGT 650 USB mic for?
[Kyle Kashiwagi] The DGT 650 is what we use to record things on the go; it's a great mobile USB mic to take along and capture songwriting ideas. We can walk to the beach with it, put it into a phone, and record samples of song ideas as we sit outside and soak up inspiration on the beach.
---