Justin Stanley
"The LCT 940 mic is beautiful!"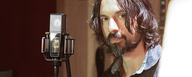 Justin Stanley is a producer, engineer, musician and composer originally from Australia and now based in the US. He has worked with standout artists, including Eric Clapton, Prince, Sheryl Crow, The Vines, Jamie Lidell, Snoop Dogg, Daniel Merryweather, Jet, Nikka Costa, Robbie Robertson, The Heirs, Cold Cave, Paul McCartney, Patti Smith and Beck, to name a few.
Justin has toured with Beck in 2005 for the Guero tour, playing guitars and percussion. He then went on to play on Beck's album The Information, and joined Beck again in 2006 on the soundtrack and score for the movie Nacho Libre starring Jack Black.
Justin's production and compositions have also been featured in such films as Friday Night Lights, Spiderman III, Blow, Zoolander, Wolves of Wall Street and on TV shows such as Grey's Anatomy, Niptuck, Ugly Betty, Bones, and The Bernie Mac Show. Justin has composed and produced music for commericals with Nike,Gucci, Ford, Eveready, Mercedes, Ana Sui, and the internationally awarded "Chipotle" commercial featuring Willie Nelson.
Justin about his LEWITT LCT 940:
"The LCT 940 mic is beautiful. I love that you can switch between tube and FET . 
I have a movie called 'Always On My Mind' that I'm scoring and producing a few songs Elton John and Bernie wrote for the film. I'll be using it for sure on that project." 
Links
---
Related content