Blog
True love for great sound unites us. 
Meet the geniuses, the unbeatable mixing contest winners
What gear did the mixing contest winners use, and what are their workflows? Learn about the backgrounds of the five winners and get inspired.

Our last mixing contest was a huge thing. It took a lot of effort, but getting the great feedback and seeing the great togetherness and mutual support you guys had for each other made every one of our working days sweeter. Here are more details of the mixing contest.
Like many of you, we also wanted to get to know the winners better, so we contacted them, and they were kind enough to share some of their experiences with us. 
Let's find out who the winners are and what they did to win!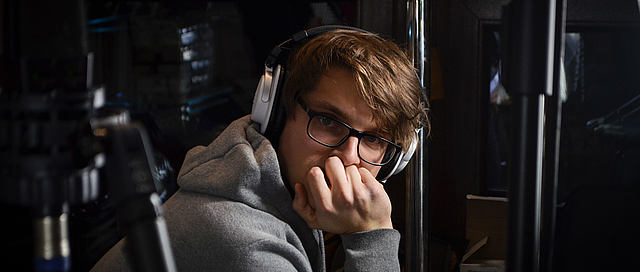 Meet Grzegorz K.
[LEWITT] Tell us a bit about yourself
My name is Grzegorz Kobus. I live in Poland in the city called Lodz. I am 26 years old and I work in the video streaming industry as my daily job.
After hours and during the time I am supposed to be sleeping, I mix and record music. It's basically a fortunate combination of my hobby and side income.
Most of my audio work is related to live music. This is also how I got into audio. During my college years, I was obsessed with the idea of how records are made.
At that time I used to work as a stagehand at local companies and I have been volunteering at local radio/studio stations like my beloved Studenckie Radio Żak Politechniki Łódzkiej (student radio) where I build my chops and had the chance to meet many great people that are doing audio professionally.
Recently, together with my two friends, we started a YouTube channel called pohuk (in Polish word "pohuk" means something loud and mysterious). We basically record live music shows that we like and believe in. Our main mission is to promote alternative, independent music and capture all emotions that are associated with live performances through audio and video.
[LEWITT] What were your first impressions when you listened to the multitracks?
I am used to the sound of live recordings so I wasn't surprised by the amount of bleed which wasn't terrible by any means. The tracks were recorded well and already had some pleasant processing on them. The band gave a great performance, which is the most important for me. I was pleasantly surprised by the punch and clarity of the Kick in track as well as the overheads. Later in the mix, I decided to set them to figure 8 by using the polarizer plugin. 
[LEWITT] What was the biggest challenge with the mix?
The biggest challenge for me was to maintain the live feeling of the song while making it more punchy and aggressive but still listenable. It's very easy to overcook a rock mix and go quickly beyond the concept of "larger than life" especially with live recordings. I used room tracks a lot and build my mix around them. Hi-hat bleed was the biggest issue to overcome, but it's something I have to deal with on a daily basis.
[LEWITT] What was your workflow like when doing the mix? Drums first? Etc.
Always at the early stage of the mix my workflow is very organized and planned, I applied the same process this time.
Firstly, I did a mix prep so I imported my mixing template with all busses and routing. Then I edited all tracks, starting with drums. I manually gated Snare bottom track as well as Toms tracks and applied fades where necessary. Also, I gated Vocal tracks where bleed from Overheads was a bit too much.
Then I spent some time checking polarity and phase, especially on drums. This is a crucial part for me, which is even more important with live recordings where there are multiple microphones sharing sounds. I made sure that kick and snare are in phase and then I time aligned them.
All tracks were summed into the stereo aux track called MixBuss. There were some plugins that I mixed into from the get-go. Usually, it's a buss compressor, broad EQ for high end like Puigtec, tape emulation, and RBass.
You can call it top down mixing approach, but basically I think about it as the sound of my "virtual console". It slightly changes depending on the song. If I am content with the raw balance and nothing sticks out too much I will move to the actual mixing part.
Here I started with drums, did some work on single tracks and quickly introduced my parallel compression which played an important role in the mix. I side-chained Bass with the Kick track to create space for both of them.
From there the process usually gets very messy. I always try different ideas and approaches to create a sonic space for each instrument. I really liked the drums so I decided to put them forward and let them drive the song. During the mix I was referencing the studio version of the song, just to keep panning and vibe similar
[LEWITT] Which software did you use, which DAW?
I am using Pro Tools Native 2019
[LEWITT] Do you have any go-to EQs?
I tend to choose SSL style EQs. One of my favorites is bx_console SSL 4000 E and Waves SSL E channel. I also use stock Pro Tools EQ3 for surgical cuts and Soothe to tame harsh mid and top frequencies on cymbals and vocals.
[LEWITT] Do you have any go-to compressors?
Usually, I grab an SSL compressor that is built into a channel strip or I use Waves CLA 1176. I tend to prefer slow attack and fast release times.
[LEWITT] Did you use outboard gear?
I didn't use any outboard gear. I would love to try it one day but with my current setup and workflow, it would be inconvenient.
[LEWITT] What is your listening situation like? Do you have a treated room?
I have a couple of broadband absorbers hanging in my room but since my amp for Yamaha NS-10 is no longer working I use headphones exclusively. With my current mixing setup room acoustics is not an issue.
[LEWITT] What monitors or headphones did you use?
I used Beyerdynamic 990DT pro (250 ohms) headphones. These headphones are my main and only reference for a couple of months now. At the end-stage I checked the mix in a car and I was really happy with it.
[LEWITT] Any tips for aspiring contestants and audio engineers?
Practice is everything. Take every project as a new opportunity to learn and improve. Develop a habit of watching online mixing classes instead of spending time on Netflix.
Do small things but keep them as a daily routine. Basically do anything that keeps you involved with the current music trends and music community.
Also, reference your work with commercial mixes and remember to level match it. Don't forget to level match your plugins so you aren't fooled by a volume change.
Check your phase and polarity! Have fun doing it even when it's not that fun all the time.
---
---