Harmony Samuels
"The LCT 940 is extremely versatile."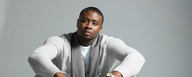 The mission of British producer and musical "phenom" Harmony Samuels is to take an artist on an inward journey to find the music that expresses him or her best each time he steps inside a studio - with performers from Chris Brown, Brandy, Maroon 5, Fantasia, Chipmunk, and Lil Wayne to countless others. He's more than a music producer: he is a confidante, a spiritual counsellor, and a friend to artists of all genres and backgrounds.
"I wasn't brought to this industry to just make great records … I was brought here to impact the artists and coax out their greatness," says Harmony. He draws inspiration from one of the greatest music producers alive, Quincy Jones, whose resume can serve as inspiration for anyone in entertainment. Like Jones, Harmony understands that he has to get to know and love the artists with whom he works in order to bring out their best.
Harmony is a self-taught musician who has mastered piano, bass guitar, guitar, and drums. It's no coincidence that these instruments form the rhythm section, the heartbeat of all music. As a producer, Harmony finds that heartbeat while delving into artists' emotional and oftentimes spiritual substance.
Harmony opens up creative channels that lead back to an artist's center, whether it's about finding a sound for Jennifer Hudson on the Think Like A Man lead single that fits her comfortably on the radio, or breaking through layers of distress, distraction, and pain with Fantasia Barrino. In the case of Fantasia, the accompanying catharsis and subsequent chemistry were such that the project to record one track quickly became an entire album: "We finished her record in 3 weeks, producing hit after hit. I've never worked with anyone who was so quick to perform at that level on every song," Harmony enthused.
In the studio, Harmony stands by the LCT 940: "Whenever I'm unsure of which microphone to go with, I grab the Lewitt LCT 940, and it solves the problem every time. The LCT 940 is very reliable and extremely versatile."
List of songs using the LCT 940 microphone on vocals:
Jojo - Say Love
Nathan Sykes - Over and Over Again (soon to be released)
Jasmine V - That's Me Right there
Michelle Williams ft. Beyonce' and Kelly Rowland - Say Yes
Nikki Yanofsky - Necessary Evil
Ariana Grande - Right There
Ariana Grande - Almost is Never Enough
Ariana Grande - You Don't Know Me
Ariana Grande - Too Close
Links
---
Related content