Blog
True love for great sound unites us. 
Women in audio - Sabina Schöberl
Sabina Schöberl has been touring as FOH with various bands for 9 years. We took World Women's Day as an opportunity to talk about her career.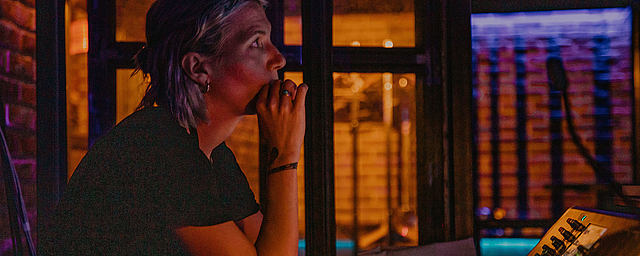 Sabina Schöberl has been touring as FOH with various bands for 9 years. Her main band is Mother's Cake, she has been touring for the last 2 years with The Vintage Caravan from Iceland, but she has also done sound work for the three Israeli bands Uzo Bazooka, Liraz and Gili Yalo, to name but a few.
We took World Women's Day as an opportunity to invite Sabina to talk to us about her career and the prejudices she encountered in her job as a live technician. 
[LEWITT] How did you get into live engineering? When you were a teenager, in retrospect, did you do something that got you into music production?
[Sabina Schöberl] When I was about 18, I started organizing underground concerts and booking bands all over Austria with some friends. These were often basement events where there was often no facilities or equipment. At that time, I got interested in what you need for a gig, but I didn't have any knowledge about live technology yet. Based on these experiences I started my education as a sound engineer at the Deutsche Pop in Vienna and meanwhile I have been working as an FOH for nine years.
[LEWITT] Did you want to be a FOH from the beginning? Tell us about your education and how you first gained experience in live performance.
[Sabina Schöberl] Yes, I knew from the beginning that I wanted to become a FOH. When you're in training, you often have a studio and it's all about learning the basics. There you are in a nice protected dry room where the live moment is not there.
To gain experience in the live area, I did an internship at KAPU Linz during my studies and have been working there ever since.
My first gig alone was with a 7-piece band on a small stage in a small room and that was my baptism of fire. I also learned a lot about the genre there: from Hip Hop to Metal and Electro to Jazz, pretty much everything happened.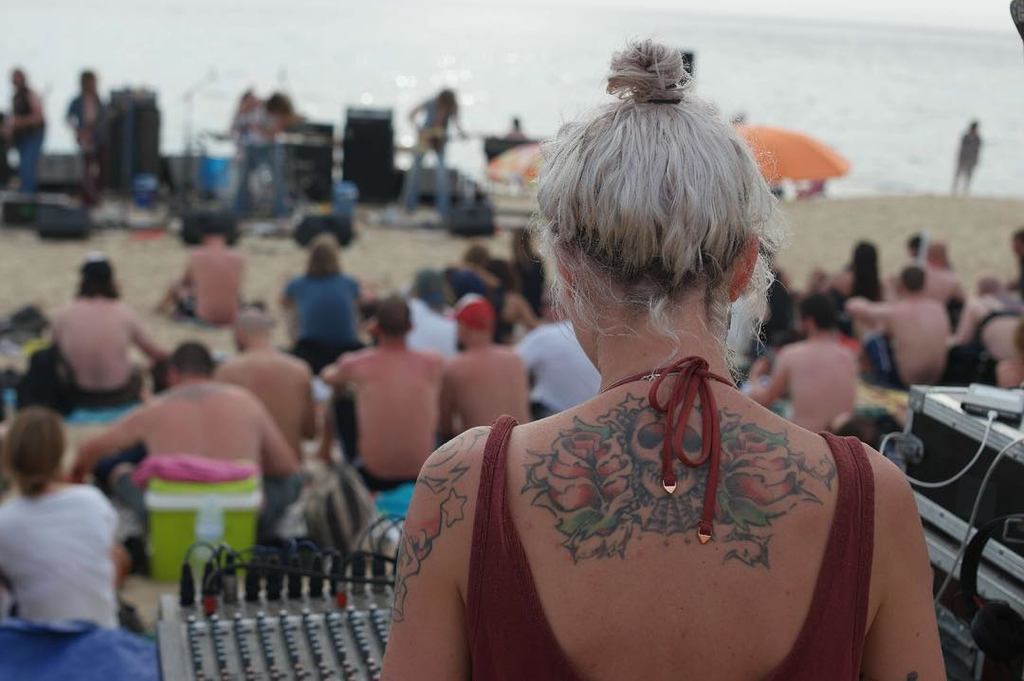 [LEWITT] What advice would you give to others, or what do you think is the most important thing in the FOH profession?
[Sabina Schöberl] First of all you have to have a lot of empathy. I think it's very important that you get involved with musicians and that you don't just stubbornly follow your own path and do everything the way you've learned to do it, but also get involved with creative things. My tip is to listen to a lot of music and be open. Music is education! It has always been important to me that even if I'm a metalhead, I can mix a blues/jazz concert.
[LEWITT] What's it like being a woman in a male-dominated industry?
[Sabina Schöberl] On the one hand, I find it very nice because I had many positive experiences - but unfortunately I have to count myself among the women who have often felt sexist macho behavior.
I think it's like all other industries where patriarchy is very present and you have to fight to get ahead in a predominantly male hierarchy. But I have the feeling that something is happening in the music industry: I know a few women who work in booking, lighting or have managerial positions - but I think it's a bit of a shame that over the last few years I've only met a dozen women who work in live technology and we're trying to break through that.
I would like to motivate other women who are interested in the profession in any case and I would like to have more awareness of the fact that there is nothing that distinguishes us women from men and that you can and may be a nerd as a woman. And that in no way is unsexy. On the contrary.
It's not always easy and I don't feel comfortable in every situation, but in most situations, I address this openly.
[LEWITT] I'm sure there's always some prejudice you encounter in your job, can you tell us some anecdotes?
[Sabina Schöberl] What often happens to me - and that's nothing that hurts my heart now - is the situation that I arrive at the Venue with a band and then some man who works there comes along and the first question I get asked is: "Oh, and who's girlfriend are you? - sometimes I get to hear: "The merch stand is back there in the corner".
So some men don't even consider that I could possibly be the technician because they lack awareness.
Such an interview is always something very subjective and I can only talk about my experiences, but I also know that there are women out there who have had really bad experiences and I hope they don't keep it to themselves when they are harassed with sexist statements. Just because I'm lucky because something like this hasn't happened to me yet, doesn't mean it hasn't happened to other women. And I know that 100%.
[LEWITT] What positive experiences have you had?
[Sabina Schöberl] Very often after shows I got into a dialogue with men who think or were very feminist and who stood up for women and also encouraged them. Not because of a quota, but simply because we think that this is quite normal. And there have also been men who have copied a little bit of my way of working and got tips from me after the concert. I have had many wonderful experiences.
But not the less it is still the patriarchy and we often have to prove ourselves much more and fight more to assert ourselves than our male colleagues.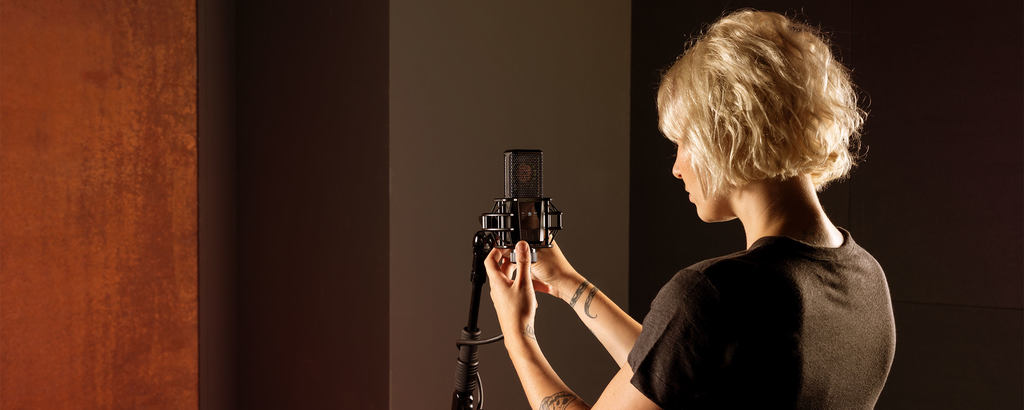 [LEWITT] Do you have any idea what could be done to get more women into sound engineering?
[Sabina Schöberl] I think we first have to raise awareness among young women for this profession because the gender-stereotypical upbringing of many young women means that they don't even think about going into audio engineering.
I think it would be good if there were more workshops, especially for women because that way you can arouse their interest. I can well imagine that with such an offer one could break through the inhibition threshold that some girls might have when they are in a workshop with many boys who already have more knowledge. Boys have often grown up with technology due to gender roles prevailing in society and have been encouraged in this area from an early age.
[LEWITT] Have you yourself also given workshops for young women and is there a general offer in Austria?
[Sabina Schöberl] Yes, I've already given a few workshops. That's how I know that women are very interested in the topic.
The problem that I have observed is that there is an offer for women if you are more advanced, but there are no basic workshops where you start from scratch and as a woman, you can just look at it with interest - I would like to see that there are different initiatives that offer this.
Here in Austria, there is the Girls Rock Camp. I have already taken part twice and held workshops there. DareYa is a queer-feminist association from Innsbruck, they offer workshops and concerts once a year, where mainly women stand behind the faders and mix. There is the AnnandPat, a cultural association in Linz and especially the women's office Fiftitu%, which unfortunately have had their funding cut, like so many others or are no longer supported by the state at all.
There is a small offer, but it functions more in the subculture and doesn't really get out because there are very few platforms in the commercial world and the media.
Nevertheless, I can only recommend it to every woman who is interested in audio engineering to try it out and you can also contact me if you need help or information.
[LEWITT] What are your goals for the future? Where would you like to go?
[Sabina Schöberl] I'm now working at the Flex on April 7th with a band that was just nominated for a Grammy: Tank And The Bangas. Great band with a very strong frontwoman. I am responsible for stage management, production, etc. I am really looking forward to that. 
For the future, I would like to work more in the production area. And I would also like to give more workshops for women because I have always enjoyed it very much and I hope I can find a platform or venue where you can do this several times a year. I already have a few ideas.
---