Blog
True love for great sound unites us.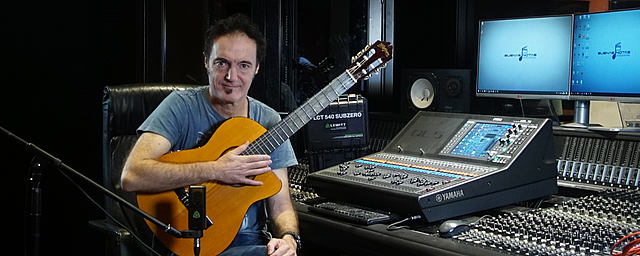 Jam Session, a classic of Argentinian broadcast television, has been on the air for nearly 20 years. Since it was launched, it's been nominated several times for honors including the Carlos Gardel Awards, of which it's so far won two – in 2016 and 2017, respectively. In 2018, Jam Session received again a nomination for the Carlos Gardel Awards - we cross our fingers!
As the TV show's name would suggest, it features a resident band that plays alongside Diego Mizrahi, who's joined by a different well-known musician in every episode for a jam session with different songs. There are also interviews with each episode's guest as well as product tests by specialized clinicians.
At the moment, the show has around one million monthly viewers in South America who watch it on broadcast TV and various other platforms – and though it's aimed at a specialized audience including musicians, producers, and engineers, it's really suitable for all audiences.
Diego Mizrahi on the show's recording process and the challenges of recording live for TV:
"The fact that we record live in the studio is a double-challenge, since what gets recorded is really the first take – so we, the musicians, have to be prepared for what we're going to play. And in my case, since I'm also the show's host, I have to be sure about what I'm going to say. I also have to pay attention to a number of things going on behind the scenes and interact with the "fourth wall", as they say in theater, as well as with the band on stage and last but not least with the guests, who choose the songs we're going to play.
 We'll record twelve songs in one day, songs played that day only, with four different guests. We play three songs per episode. It's challenging because there are a lot of songs – usually with complicated music sheets – that we've rehearsed only once previously with the guest artist. And then we record, as I said before, in one take. So the musicians and I are constantly feeling the adrenaline rushing through our veins, very fast, every time we play a different song. 
What we like about playing and recording with LEWITT microphones is that they give us a high-quality sound and capture the instruments in the most accurate way. We use the DTP Beat Kit Pro 7 on drums, the LCT 540 S, LCT 440 PURE, and LCT 240 PRO on a variety of instruments, and the MTP 550 DM. I always recommend LEWITT, because I'm very happy with the results and the excellent quality of these microphones."
---