Chet Roberts
The frequency response of the LCT 640 is just perfect!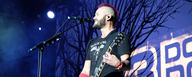 Chet Roberts is living the dream. Crediting a mix of hard work and being at the right place at the right time, he went from engineer to musician nearly overnight when 3 Doors Down needed a replacement guitarist. The band's first studio album, The Better Life, was released in 2000 and peaked at number seven on the Billboard 200. And the singles Kryptonite, Loser, and Duck and Run all reached number one on the mainstream rock charts. Since recording their last full-length album Time Of My Life, the band has added bassist Justin Biltonen and guitarist Chet Roberts. 
Chet about his experiences with the LCT 640 and the LCT 550:
"I'm looking for clarity and presence, but with a smoothness to it. I don't want it to be kind of attenuating a certain rough frequency – like something that's biting in your ears. I think the frequency response of the LCT 640 is just perfect, and it's become my go-to microphone in the studio. It's the top dog and the one that made me fall in love with LEWITT. I mainly use the LCT 640 on vocals, but I've also got a matched pair of the LCT 550's. Those are the quietest microphones I've got, and I use them on the acoustic guitar, which I usually record in XY since I want to capture all the instrument's little nuances, the highs and lows. But I also use it for drums, as room mic, and record in AB or XY as well."
---
Related content