Eric Gales
"I'm proud to be a user of LEWITT microphones!"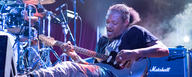 Blues guitar phenom Eric Gales, born and raised in Memphis, learned to play at age four from his older brothers Eugene and Manuel by imitating their upside-down, left-handed style. Despite Erics' weapon of choice being a right-handed guitar turned upside down and played lefty-style, the end result has always been miles beyond mere mechanics and licks. Those requiring proof of his impressive skills have only to listen to his new and deeply personal record Middle of the Road, which dropped on 24 February 2017 as his sixteenth album. What's more, Joe Bonamassa has called him "one of the best if not the best guitarist in the world today." Right now, Eric is on the road with the new record in his bag…
[LEWITT] Middle of the Road is out, you're in the middle of your tour, and it seems like your career has really taken off…
[Eric Gales] My carrier's taken on a life all its own – especially over the course of the past year, where I decided to open myself up to what I, personally, have to offer – and it's been the most amazing thing that's happened. The record is gaining a lot of positive momentum, and I'm very proud of everything that's happened in life during this past year. So things are really looking good!
[LEWITT] There are a lot of publications talking about the instruments you play, but not about the microphones you're using on tour; can you tell us about those?
[Eric Gales]  Well, I'm using the MTP 550 DM mics, and the majority of people have never heard of them. So when I bring them to the venues, I always tell folks that they have to give me feedback … and after they've heard them, they're blown away! The transparent, round sound they give me in combination with the feedback protection lets my vocals cut through the mix with tremendous ease. My wife is singing background vocals, and she loves them, too. They sound really, really great, and I can't say often enough how well they project. I'm also using the MTP 440 DM – on my amp – and it sounds amazing, too. I use it religiously: it gives me the tone out in the house exactly how it's coming out of my amp.
[LEWITT] Anything else you'd like to say about LEWITT?
[Eric Gales]  I'm proud to be a user of LEWITT microphones!
Eric about his MTP 550 DM with Premiere Guitar's John Bohlinger at City Winery in Nashville:
---
Related content