Brian Culbertson
"These LCT mics are just spectacular!"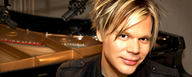 Brian Culbertson is an American contemporary jazz/R&B/funk musician, multi-instrumentalist, producer and performer. His instruments include the synthesizer, piano, trombone, drums, bass, trumpet, euphonium and percussion.
In 1994, at age 20, Brian self-produced his debut album, Long Night Out. Since then, Brian has released twelve more albums, toured around the world, seen his name at the top of Billboard and radio charts, worked and performed with industry all-stars like Maurice White, Larry Graham, Chris Botti, Musiq Soulchild, Ledisi, Chuck Brown, and "Bootsy" Collins to name a few, and received numerous awards including a 2012 NAACP Image Award and a 2012 Soul Train Award.
Brian's experiences with LEWITT microphones:
"When I first put the pair of LEWITT's on my piano, I was amazed about the kind of open sound there were. So we put these up and instantly, it felt good - it felt warm, and it still had the top end, that I need. I need a microphone, that cuts through the funk track or the R&B track, but also retains the warmth and that's what these microphones do and they sound amazing.
I have done serious A/B comparisons with everything else, and the LEWITT wins. These LCT mics are just spectacular. I have used the most famous and expensive mics, and none are better than the LEWITT. I record my piano though the Millenia preamp with my LEWITT mics. The sound is so damn clean!"
---
Related content