Josh Lovelace
"The DGT 450 is easy to hook up to make high-quality recordings with!"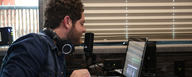 Sibling songwriting duo Bear and Bo Rinehart have been penning rootsy, uplifting tunes together for the better part of the past two decades, and with help from bassist Seth Bolt and keyboardist Josh Lovelace, they've led NEEDTOBREATHE to tremendous critical and commercial success. Their Tour de Compadres supports one of the top-selling albums of the summer, Hard Love, which debuted in July at No. 2 on the Billboard Top 200 chart, just behind Drake's Views. The Atlantic Records release also sat at No. 1 on Billboard's sales charts for rock albums and alternative albums. The music on Hard Love is uplifting in the spirit of great rock 'n' roll and R&B.
Josh Lovelace about his DGT 450:
"On the road, I use the DGT 450, which has been cool. It's very compact, I can put it into my backpack and go everywhere with it, and it's high quality. It's great because when you're on the road, you want to get that idea down, but you also want to be able to take it into your home studio or into a bigger recording setup. The way we've been able to use it, even some of the stuff that we've done in the front lounge on our bus might possibly make it onto the record, which is cool. You can record something very quickly in high quality and send it straight off – it's awesome for that. It's very versatile, you can do a ton of different things with it, and it's great to have a condenser microphone that's also an interface – that's a super-great feature, really handy to have. It's great because the sound quality is very good, and because it's very usable in any kind of situation."
Links
---
Related content