Richard Bravo
"LEWITT mics give me a better defined picture of my instruments!"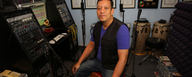 No one embodies the true spirit of artistic passion quite like Venezuelan-born percussionist Richard Bravo does – as evidenced by his ardent performances and numerous recordings.
His impeccable and precise musicianship has generated a body of works encompassing over 1,000 recordings and 27 Grammy Awards. From recording and appearing on International Superstar Ricky Martin's MTV Unplugged release to creating the incredible rhythms of the multi-platinum Hips Don't Lie by Shakira, he also recorded Michael Bolton's album Gems: The Duets Collection as well as Herbie Hancock's critically acclaimed and Grammy-nominated Duets album.
Richard was especially honored to appear on and record the Barry Gibb/Barbara Streisand CD release, which reunited these two musical giants. He also continued to record and tour with Barry on his first-ever one-man solo tour, the Mythology Tour, which completed a worldwide run to stellar reviews and sellout crowds in all of the venues where he appeared. Currently, Richard is on tour with Juanes.
Richard about his first time using the DTP Beat Kit Pro 7:
"As I exchanged and replaced my mics with the LEWITT microphones, I was shocked in a very positive way. The imaging and clarity is perfect: my instruments cut through. The imaging is much more clear and dynamic, it's amazing. It's a better-defined picture of my instruments. I don't have to hit them as hard anymore and can actually play more dynamically and expressively. I sound better. The monitor and front-of-house engineer both said, 'WOW!' when they heard them. I'm very happy with them. Do you want to have a better sound? Get LEWITT microphones.
The MTP 440 DM is the best percussion mic I've ever used. There's so much more clarity on conga, timbales, and bongos. I use a pair of MTP 440's for stereo micing. I used them on the new Gloria Estefan and the new Jennifer Lopez record. It is very nice, fat, and clean."
Richard uses the LCT 550, as well. It's the first and only large-diaphragm studio microphone ever to achieve 0 dB (A) self-noise, which allows you to capture even extremely weak signals with great precision and detail: "I use the LCT 550 on vocals, acoustic guitar and shakers. It is amazing. I compared it to my Neumann U89. It kicked it in the ass." 
Richard currently tours with Juanes as well as recording and touring with Barry Gibb.
Richard Bravo about his experiences using the DTP Beat Kit Pro 7:
Links
---
Related content