Arıkan Sirakaya
"The DTP Beat Kit 6 is a valuable addition to my sound, delivering punch & clarity."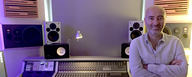 Arıkan Sirakaya is a Turkish drummer, sound engineer, and music producer. Arıkan started playing drums while in high school, and during his college years he worked with drum educators Selami Sevinc and Cem Aksel. His breakthrough came in 1997 with several tours playing for pop star-level artists, and before long, he'd become one of the most sought-after drummers in Turkey (full list of acts below). Between 1999 and 2001, Arıkan gave drum lessons at a hip-hop drumming school, where he was a senior partner. And in 2003, he began composing music for TV series and movies, leading to the release of two soundtrack albums. He's been on various world & European tours with Turkish pop star Mustafa Sandal (some notable appearances being at the Fifa World Cup 2008 concert supporting Bryan Adams in Stuttgart, at the Desert Rhythm Festival in Dubai headlining with John Mayer, as Hi! Seoul Festival headliners in Seoul, South Korea, and at the Olympia music hall in Paris). 2008 saw Arıkan move into a private studio. He joined forces with Can Alper in 2015 to co-produce, record, and mix Feridun Duzagac's album Baska, which was voted Best Rock Album of the Year by iTunes Turkey. And in 2017, he launched the record label Studyo Arı Records, which has the same name as his studio. Since then, he's released a number of albums by talented upcoming bands and musicians.
Arıkan about his LEWITT microphones:
"I use the DTP Beat Kit 6 on the gigs I do with Hande Yener and Feridun Düzağaç. I like the round low end and the definition of the DTP 340 REX. The MTP 440 DM has a very good rejection of spill from the hi-hat, which is a big bonus for live sound. The LCT 140's are flat but not dull: with the right amount of subtractive and a touch of additive EQ, anyone can make them shine on overheads without being harsh. And the DTP 340 TT's have both the body and the punch I need on my toms.
I do my own drum mix onstage using the Soundcraft Ui-24 digital mixer. The DTP Beat Kit 6 is a valuable addition to my sound, delivering punch, clarity, and weight that I love to hear as well as making the artists and bands I'm playing with happy.
The LCT 540 S is a really nice all-around mic that I use on drum room, upright bass, overheads, and brass. Its ability to handle such a wide spectrum deserves a big thumbs-up!" 
 
Here's a recent track that was recorded, mixed, and published by Arıkan Sırakaya & Studyo Arı:
Tolga Şanlı – "Manzinga"
 
Arıkan has toured with:
Hande Yener, Feridun Düzağaç, Ayşegül Aldinç, Emre Altuğ, Fuat Güner, Tuğba Yurt
Some of the artists he's played with // produced // recorded // mixed:
MFO, Mustafa Sandal, Ajda Pekkan, Sertab Erener, Feridun Düzağaç, Hande Yener, Bengü, Mustafa Ceceli, Orhan Gencebay, Nilüfer, Fuat Güner,Ayşegül Aldinç, Emre Altuğ, Zerrin Özer, Emel Müftüoğlu, Piston, Dilemma, Alex, Özgün, Keremcem, Gündoğarken, Gürol Ağırbaş, Yaya
Links
---
Related content