Blog
True love for great sound unites us.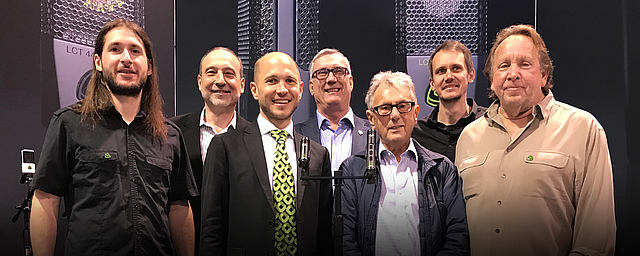 Pictured (L-R) are Moritz Lochner, LEWITT Head of Product Management; Jim Pace METAlliance Executive Director; Roman Perschon, LEWITT Founder & CEO; Mike Van Der Logt, LEWITT Head of Sales; Al Schmitt, METAlliance Co-founder; Matthias Pleyer, LEWITT Head of Marketing; and Ed Cherney, METAlliance Co-founder. Photo by David Goggin.
Nashville, TN, March 2019 – The METAlliance (Music Engineering & Technology Alliance) has announced that Austria's LEWITT has become the newest Pro Partner of the organization. Pro Partner membership is limited to companies that have shown the ability to manufacture and distribute products that meet the organization's professional audio standards.
The METAlliance's Elliot Scheiner commented, "LEWITT has made some significant advances in microphone technology, both in quality manufacturing and affordability. We welcome them with great confidence as our newest Pro Partner."
LEWITT's founder and CEO Roman Perschon commented, "All of us here at LEWITT greatly respect the founders of the METAlliance and appreciate all the work the organization has done to raise the bar of professional audio manufacturing standards. Ever since we built our first prototypes in 2009, we have strived to meet the highest touchstones, and feedback from the METAlliance has been most inspiring. This METAlliance Pro Partnership recognition validates the attention to quality that we put into all of our products."
Vienna-based microphone company LEWITT strives for cutting-edge, high-performance tools designed to deliver unaltered, transparent sound and operate in a variety of demanding studio and live applications. LEWITT's guiding principle is setting new benchmarks in terms of technology, sound quality, and ease-of-use both in professional studio recordings and onstage.
The METAlliance Pro Partnership is a group of companies that share the founders' belief that a call for quality is important. It is limited, by invitation, to those companies that provide products and services deemed worthy of consideration by professionals. LEWITT joins other METAlliance Pro Partners: AKG, Audio-Technica, Avid, Cakewalk, DPA Microphones, EventideJBL Pro, Lexicon, Manley Laboratories, GML, Millennia Music & Media Systems, Neumann USA, Prism Sound, Royer Microphones, Sanken Microphones, Solid State Logic, Sommer Cable, Sonnox, Steinberg, tc electronic, Universal Audio, and Yamaha.
About the METAlliance Established in 2005, the METAlliance (Music Engineering and Technology Alliance) was founded by globally-recognized, award-winning audio engineers and producers Chuck Ainlay, Ed Cherney, Frank Filipetti, George Massenburg, Elliot Scheiner, Al Schmitt, and the late Phil Ramone. The METAlliance works with educators to help ensure the skills and techniques that have developed through the history of recording are carried forward.
The METAlliance ProPartner program rewards those manufacturers truly deserving recognition as advocates for better quality in audio recording and reproduction. Through the ProPartner program, the organization works closely with manufacturers to evaluate, recognize, and certify products that meet the best standards for quality in the recording arts and science.
METAlliance: strategic union of music producers and engineers dedicated to maintaining the highest standards of audio recording.
---