Blog
True love for great sound unites us. 
Why we built our multipurpose studio in-house
In this article, you'll find out about the process of building our studio in our headquarters in Vienna.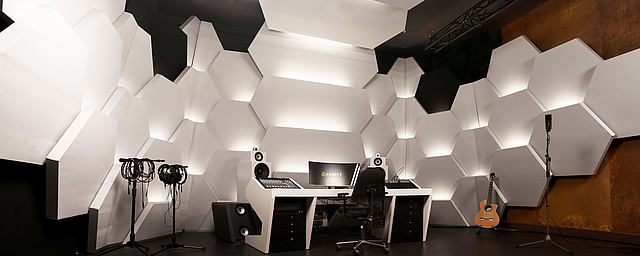 We had a glowing vision for our multipurpose studio.
Today our studio is a space where people from different disciplines come together to talk about studio workflows, develop creative ideas, test, and brainstorm all sorts of innovative audio technologies. The studio represents the heart of our stylish loft office in Vienna and it has been a long and exciting journey towards finishing the project in March 2020.
The whole studio took us six months to build. It started with our idea of a having a multi-purpose studio used for high-quality audio production covering both the control room and recording duties, video and photo production. We worked on the construction, design, materials, colors, and lighting. With the help of a local studio designer, Gernot Ebenlechner, we were able to make a sophisticated project like a recording studio even more special.
Roman Perschon (CEO & Founder) personally drew the fantastic ideas about the studio design himself and today it meets all our technical requirements for high-quality audio productions, covering both the control room and recording duties as well as video and photo production.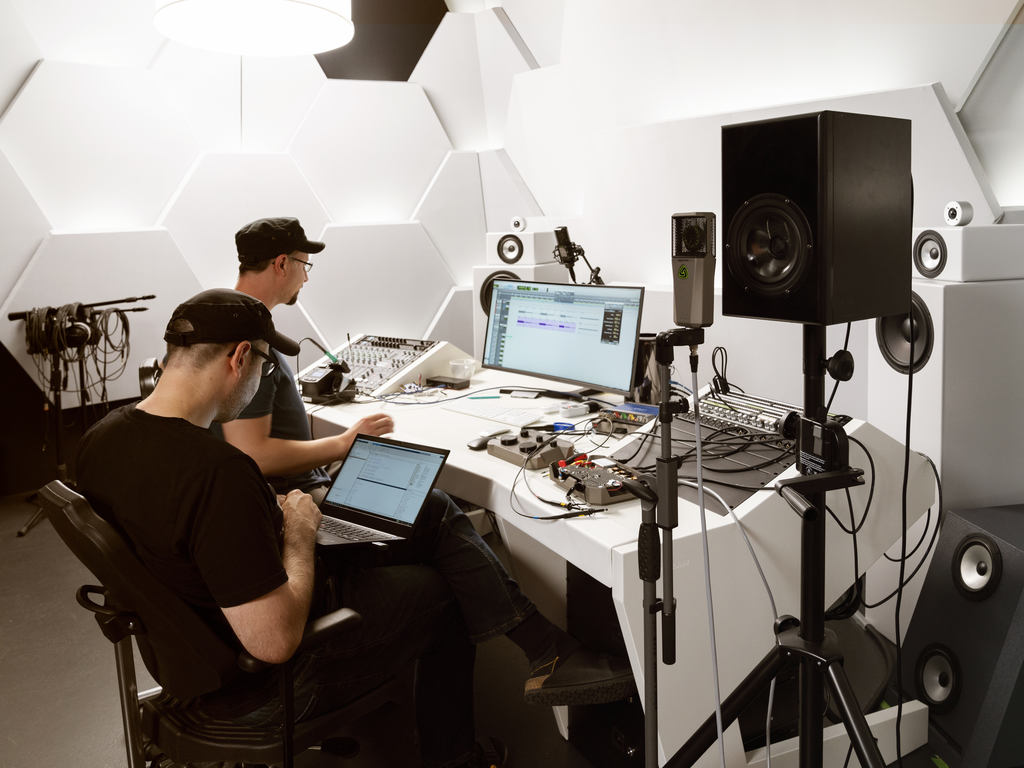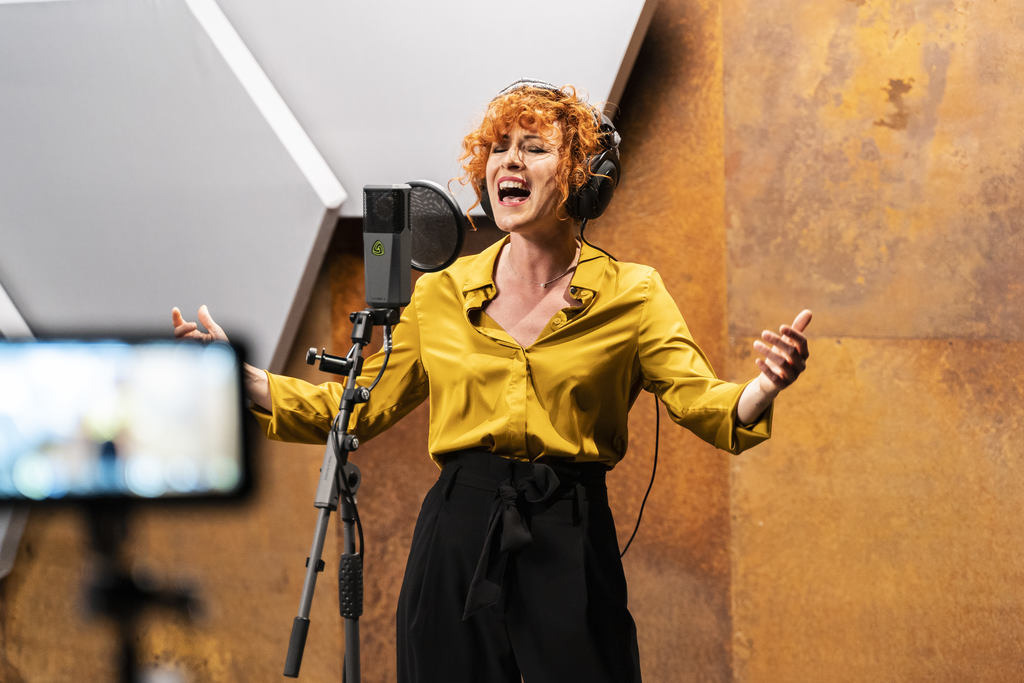 Our starting point was the 49,5 m2 raw room with a height of 3,78 m features a volume of 187 m3.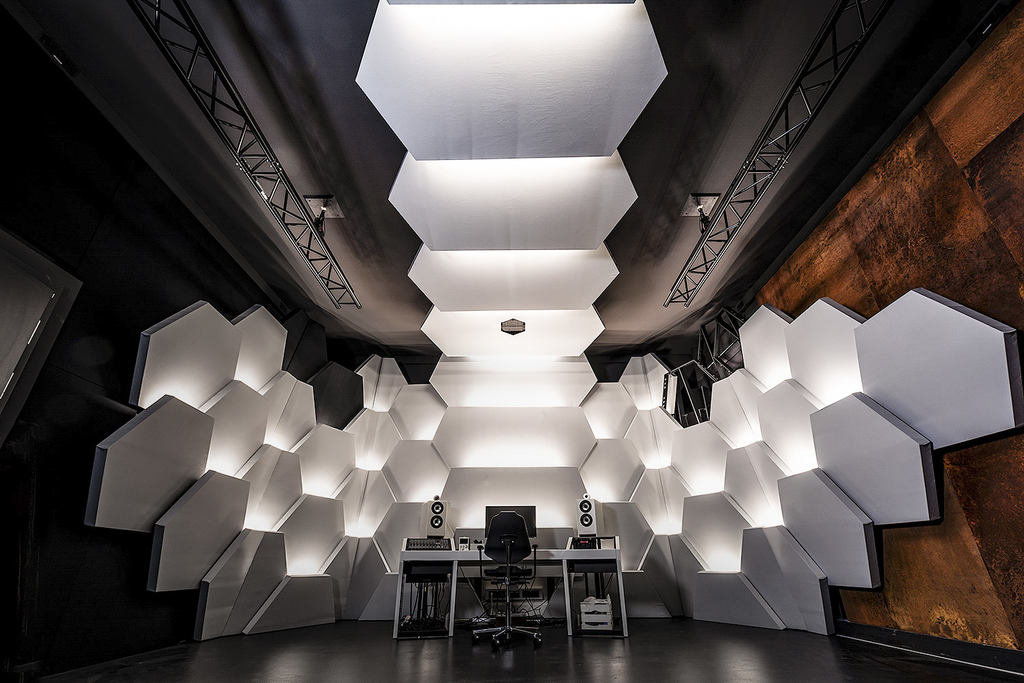 Our studio design principles.
When thinking of a microphone we can visualize futuristic, modern, and dynamic shapes. They are inspiring, convey a special flow to the artists and work together perfectly. They should break from the normal on the technical side, bring something new, and most importantly, they are designed by us.
With these conceptual thoughts and the idea of a high tech spaceship in mind, we implemented a hexagon shape for our absorber construction. This has two reasons: First of all, a hexagon reminds us of the microphones' mesh construction and therefore, relates to our core business. Secondly, the shape feels very dynamic compared to, for example, classic forms like rectangles or circles. In addition, we also found that the hexagonal shape fits perfectly with the absorber modules, in an early design phase already. 
Below you can see two renderings of our early absorber construction drafts. Visually the renderings with the hexagonal absorbers were already very appealing to us. They provided the studio with strong dynamics and helped us to dissolve the feeling of a "normal" rectangular room.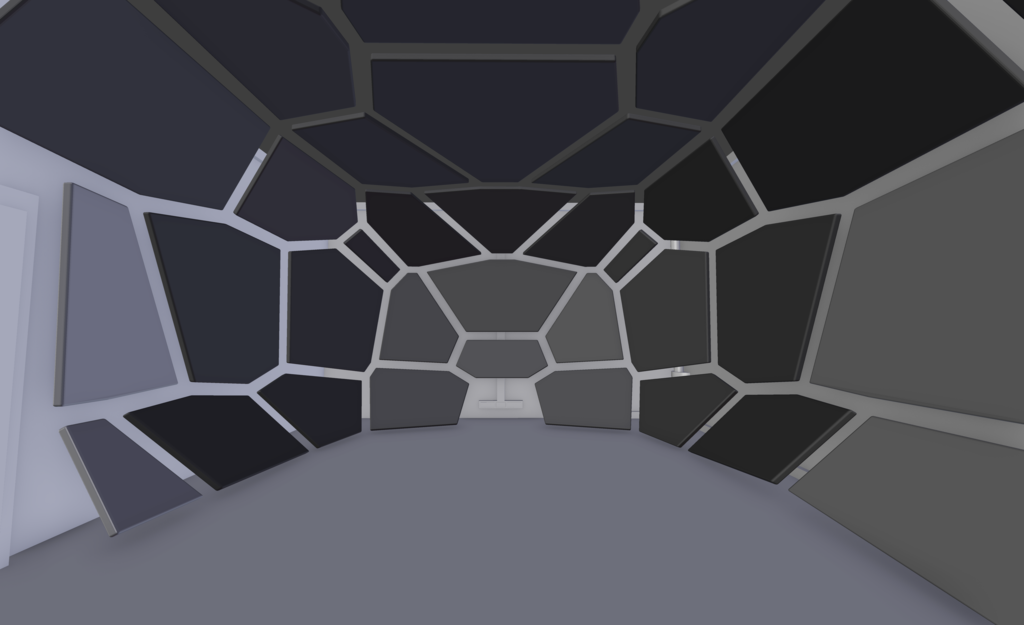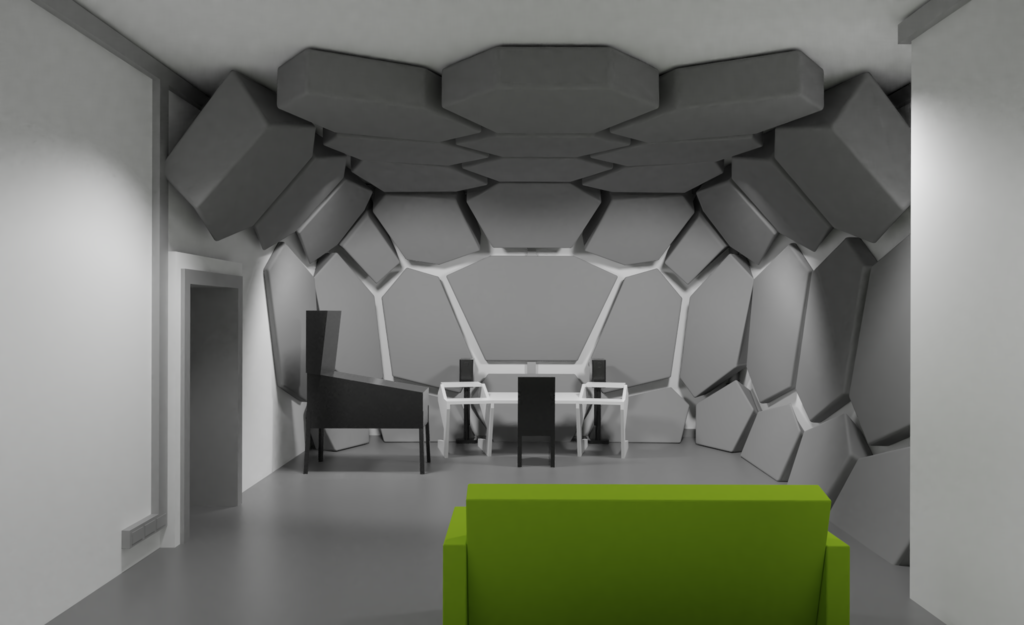 It is key for us, that everyone in the studio can feel as comfortable as possible. The main inspiration for the color concept was an abstract forest with a warm and futuristic atmosphere. With our commitment to high quality materials we decided to use raw materials like wood, steel, and natural fabrics for the studio.
A rusty wall on one side provides an organic, earthy flair and visually breaks the symmetric absorber construction.
The walls and the floor were painted in dark grey for two reasons: 1) The whole visual focus is driven by the futuristic sound absorbers, the cables on the floor become less visible. 2) We can set very accurate lights for our photo and video production projects without any disturbing reflections from the room.
However, the real special effect is given by the complex lighting concept in which the absorber construction features LED lights. The rendering below shows the final absorber construction and gives you a feel for lighting and colors design possibilities.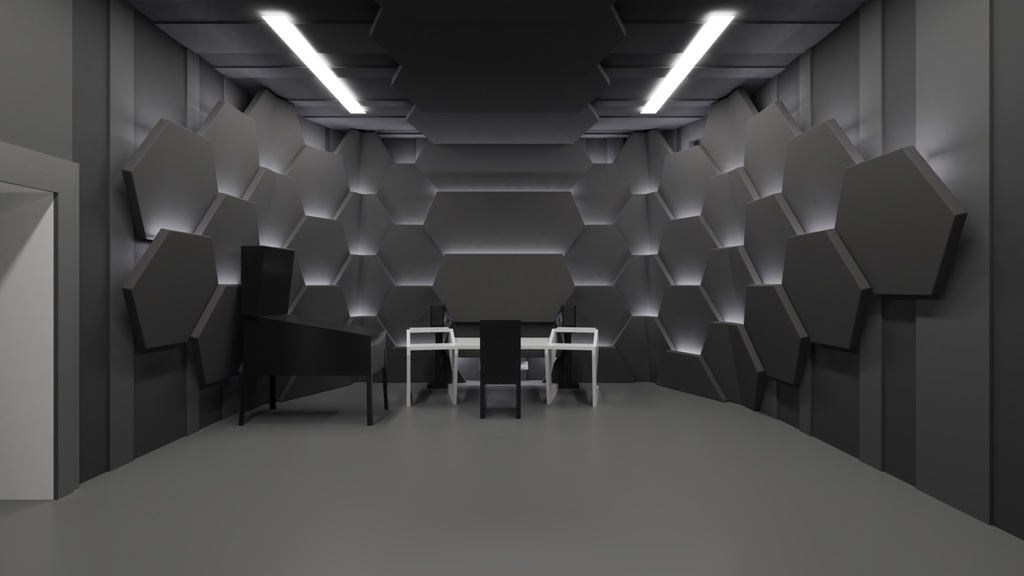 "So this is not only an acoustics build but a design challenge as well ... just the kind of project I'm really interested in as an engineer/designer."
– Gernot Ebenlechner

 
About the construction.
As you can imagine, there are many crazy facts about the studio building and it was not an easy project for our local studio builder Gernot Ebenlechner. He is the person responsible for the outstanding room acoustics and keeps the sound isolation of the studio as high as possible. Imagine, the studio is built in the middle of our office space where people should not be distracted while a band is playing and even recording inside the studio. Not an easy task!
The goal of the studio construction was to isolate it as good as possible and to let the least amount of sound in and out of the room. This was done by double-shell isolation, a lot of drywall, and extremely quiet air conditioning.
Secondly, for the room acoustic treatment the goal was to achieve a controlled acoustical environment which allows for critical listening and high quality recordings. As you can imagine, the empty room featured a very boomy sound with a reverb time of 4 seconds. 
As already mentioned, we had a strong vision of how the studio should look, with the hexagonally shaped absorber elements, the earthy colors and materials, rusty steel, special lighting and dark surroundings for the least reflection of light for video and photo production.
Construction plan and elements. 
Gernot Ebenlechner developed a masterplan to translate our complex visual and technical requirements into a studio room that can be built and actually works as intended.
The room's overall acoustic design is a hybrid form. Every element in this room has an acoustic function and we achieved a reverb time of 300 ms. The 68 absorber modules are a mix of absorbers and so called diffusorbers which diffuse and absorb sound at the same time.
They are positioned on three walls and the ceiling. Every module has about 3000 holes in it with a pattern that is a mathematical formula that applies the perfect function for this shape.The concept behind this calculation is called binary amplitude grating and the sequence of hole or no hole (one or zero) is based on the MLS or maximum length sequence.
A giant bass-trap back wall functions as a very deep working broadband absorber from the lowest to highest frequencies. The stylish rusty wall does bass absorption in a similar way to the panel absorbers.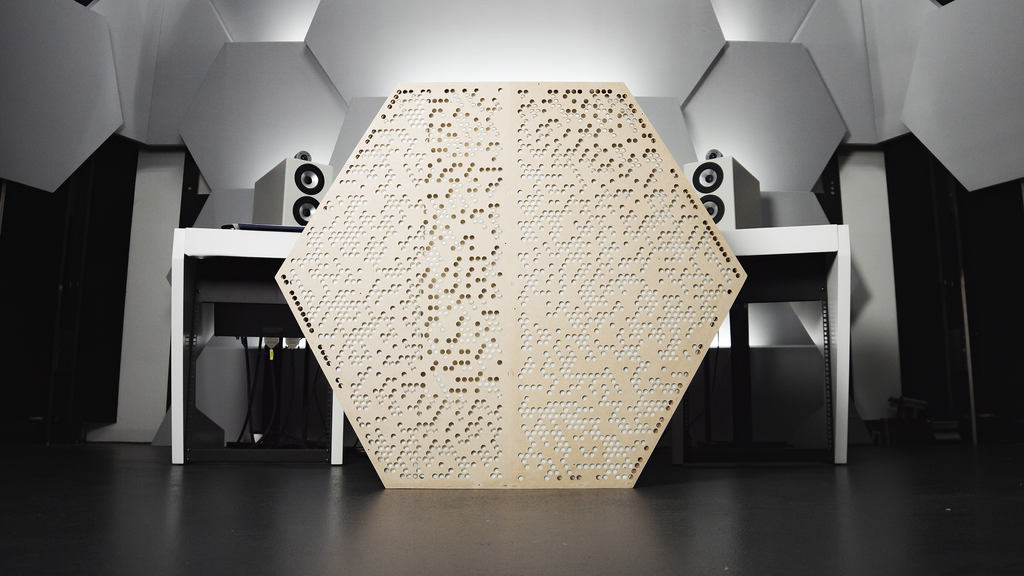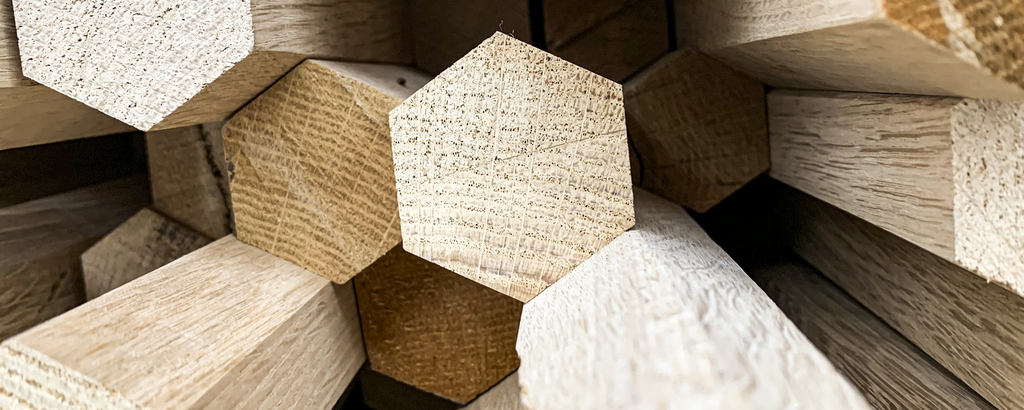 How we use the studio. 
In total, the whole studio building took us six months to build, however, we are very happy with the result and enjoy using our studio on a daily base. For us it is a special space to come together and meet diverse people from our community. Artists, sound engineers, designers, and people from many other disciplines are coming together here in our studio in Vienna to develop ideas, talk about sound and work together with us in a special atmosphere.
Check out this performance which we did for one of our music challenges!
---