Vernon Reid
"I'm using the MTP 550 DM and it always sounds good."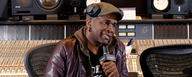 Producer, songwriter and guitarist Vernon Reid is best known as the founder of Living Colour, who exploded onto the scene in 1988 with their double platinum-selling debut, Vivid.
Through the unlikely collision of heavy metal with jazz, funk, and hip hop, Living Colour blazed a trail through the mid-'90s on the strength of hits like "Cult of Personality," which won a Grammy for Best Hard Rock Performance in 1990.
Few guitarists are as endlessly creative as Vernon Reid, and he could easily be described as one of the finest and most consistently interesting guitarists of his or any generation: genuinely eclectic, with a love of avant-garde sounds and rapid, rampant detours.
So it's no surprise that he went on to have a successful solo career, also producing other artists (such as Mali's Salif Keita and James Blood Ulmeras) and doing film scores.
Vernon's currently on tour with Living Colour's latest release, Shade.
We had the absolute pleasure of chatting with Vernon Reid at our Artist Relations Endorse Expo on the eve of the 2018 NAMM show.
[LEWITT] Tell us about the recording process for your latest record, Shade.
[Vernon Reid] We recorded it at a number of studios, and it took us a while to do it. We worked at our producer Andre Bett's Universal Music Production Center in Hackensack, New Jersey, but we also recorded at the Clubhouse Studio and ultimately ended up using a lot of different rooms – but we managed to put it all together.
[LEWITT] What can you tell us about your experiences with LEWITT microphones?
[Vernon Reid] I've just started using the DGT 650 USB microphone with my iPad Pro to record audio samples, and I've also used it on vocals. It sounds very clean and I like it a lot. Plus, it has a great app that goes along with it – that's convenient.
I'm using the MTP 550 DM on stage sometimes as a substitute for the SM 58, but I also use it at my home studio when I'm working with vocalists … or I'll put it up to a drum or a guitar amp – and it always sounds good!
[LEWITT] What are your plans for 2018?
[Vernon Reid] I'll be doing a lot more touring with Living Colour to support our new record Shade. I'm going to make a solo guitar record, which I'm really looking forward to: I'll be working on it with some friends, and it's going to be released on Mascot Records' The Players Club. I'm also going to produce some artists like Derek Day and Shelley Nicole.
Apart from that, I'm doing some soundtrack work: there's going to be a film about tennis player Arthur Ashe, a 360 VR film directed by Brad Lichtenstein, and that's what I'll be busy with in the late winter. So those are pretty much my plans.
---
Related content