April Henry
"What I love about LEWITT is its clarity, depth, and dimension!"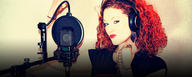 Singing in Japanese, Bulgarian, Spanish, Italian, French, German, mostly English, in the woods, in the streets, in the shower, in bars, nightclubs and theaters, trotting around the world with a big smile and very big hair… this is April Henry.
Her genres are as wide-ranging as the artists who have influenced her as a songwriter and a performer - from Billie Holiday and Tina Turner to Cyndi Lauper, David Bowie, Florence and the Machine, and Lana Del Rey to Janelle Monae. From tender whispers to the anthemic, pouring out of a song, April is interested in the raw nerve that connects us as human beings. She moves from sultry, soulful ballads and fragile torch songs to bright and sparkly pop tunes or the driving beat of a dance remix - and everything in between. Called, a "funny, fierce, force of nature" by reviewers, she explores polarity and humor. Just when you think you've defined her niche, she can surprise you with something completely different - yet always April.
An award-winning artist, garnering accolades in both singer and songwriter categories in the prestigious International Songwriting Competition (ISC) among others, April's talents have been recognized by industry luminaries such as Peter Gabriel, Tom Waits, Adele, Robert Smith, and Epic Records president Amanda Ghost. In opening for artists like Michelle Branch and Gavin DeGraw, she uses her particular brand of theatricality and high-octane vocals to take audiences on an almost otherworldly rollercoaster. Recently becoming a LEWITT Microphone endorsed Artist, April can also be found camping out in the studio, giving her Authentica microphones a workout.
April about her experiences with LEWITT microphones:
"What I love about LEWITT is its clarity, depth, and dimension. As a Producer, Singer and Songwriter I'm all about creating worlds. With all the software filters that are available on the market, modern recording requires a genuine voicing to play with. LEWITT does the job. You don't need to be a sound engineer to make the LEWITT sound amazing. It captures a true essential sound. Appropriately named, it's an 'Authentica' after all...."
April recorded the vocals of her new single Symphony of Me with her LEWITT:
Links
---
Related content