Blog
True love for great sound unites us. 
Gearspace - Review LCT 540 S
Check out Andrea Rocca's review & sound samples of the LCT 540 S on Gearspace.
We want to thank Andrea Rocca for publishing this revealing review of the LCT 540 S on Gearspace, inclusive great acoustic guitar, vocal, voiceover and dulcimer sound samples.
When I received the LEWITT LCT 540 S I wrote on my website that if this microphone would be tortured by Torquemada his hooded henchmen would not extract a whisper of self-noise from it. I think that what I meant to say is that the LCT 540 S is a very, very quiet microphone. It's predecessor, the LCT 550, had a record breaking noise floor approaching theoretical zero, and just a bit more than that in real world performance. For engineering this one LEWITT had to build a bespoke measurement instrument, so some may be excused for thinking that in many real life recording scenarios, this would be a case of audio engineering having a baby with metaphysics - but after using it for a while I reached the conclusion that having all that low noise capability on tap is a benefit even when you are not completely aware of it. You might not use it all in a given situation, but it's there and it makes sure that you have a safety net that will allow you, for instance, to use plenty of compression when mixing without nasty surprises.
My two LCT 550's, have become my to go condensers for instrumental and foley recording - like all of the upper end LEWITTs I have tried, they have that elusive combination of neutrality and slightly larger than life rendering, and are, of course, spookily quiet. The LCT 540 S is all that – just a bit more of everything. The "S" in the name originally stood for "Subzero", a moniker that had to eventually be withdrawn because of copyright issues. 
I didn't carry out any scientific comparisons on how the LCT 540 S compares to the 550. Judging by ear, I would say that they sound very similar, with the LCT 540 S sounding perhaps a tiny bit "bigger", but we're talking minutiae. All the qualities of the LEWITT upper end family are there: a lovely crispness that doesn't become shrill even with difficult instruments like strings or the Appalachian dulcimer I recorded for these examples, that subtly larger than life, tridimensional quality they impact on the source and the ability to capture a lot of detail whilst still sounding musical rather than clinical.
As for the low noise, it's hard to tell how much quieter the LCT 540 S is in respect of the 550, so I'll leave that to people with the necessary instruments and a so inclined mind. I'll just say that with both of these microphones I've been able to do creative recordings that would have been impossible before they had entered my studio life.
It's almost pointless to say that in order to make use of this low noise capability you will need a high-quality preamp with plenty of clean gain, otherwise the preamp's noise floor will completely undo the work of the microphone. Of what I have here what worked best at high gain levels are the preamps from the Metric Halo ULN-8 and the Millennia HV-3C. Other pres work well for "normal" duties, indeed the LCT 540 S neutral character tends to project the voice of the preamp more than other microphones, but cranking them way over their comfort zones invariably ended up drowning the source in a sea of white noise, made even worse by any compression applied in post.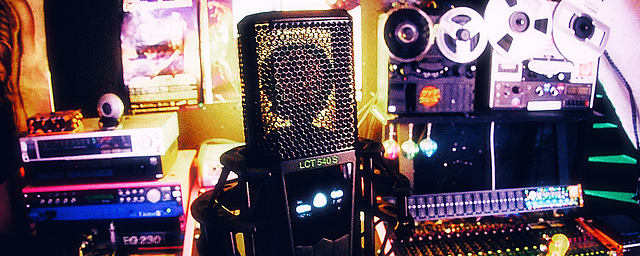 The LCT 540 S is a cardioid microphone, with low cut filters at 160 and 80Hz, two pad choices (-6 and -12 db), some LEWITT only features like the possibility of engaging an automatic attenuation system, an integrated clipping indicator and even a clipping history mode.
Like the other family members, it's super solid. It comes in a military grade case with a semi-circular suspended mount, a soft padded pouch and a portable double mesh magnetic popper stopper that, unlike others, actually works. 
All LCT 540 S are checked at the factory to make sure that they are within the specified tolerances, which means that if you buy two they will be matched paired without having to pay extra.
At the beginning of the year, I was hired to score and record the soundtrack for Luigi Lo Cascio's adaptation of Christopher Marlowe's Tamburlaine, which debuted at Palermo's Teatro Stabile in February and will be touring Italy next year. 
Because time was very tight with this particular project we agreed that the score would be mostly electronic, so that changes could be made during rehearsals in Palermo without me having to re-book musicians and fly back to London to record again. However, it's always good, with in-the-box scores, to add some extra layers of reality ear candy, so I used the LCT 540 S to record some atmospheric sounds for layering over the samples and synths based cues. 
Links
---