Percy Bady
"LEWITT mics have been my constant go-to mics for my projects!"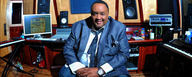 "Superproducer," a term reserved for the absolute elite of modern music production, is the word that best describes Grammy and BMI Award-winner Percy Bady. His producing talent is coupled with a prolific songwriting ability that's been responsible for timeless number one albums and hit singles over three decades of effortlessly crossing between genres in both the secular and the Christian arenas. But his perhaps greatest virtues - namely musical depth and crossover appeal as both a gifted writer and a musician - are exemplified by the two poles between which his career has taken place.
Over the course of his lengthy career, Percy has worked together with notable names including Donnie McClurkin, Bishop Paul S. Morton, Deitrick Haddon, Smokie Norful, Kirk Franklin, Donald Lawrence, Avant, Dorinda Clark-Cole, Michelle Williams (Destiny's Child), Dionne Warwick, Michael McDonald, Bebe & Cece Winans, Yolanda Adams, Fred Hammond, Common, and Marvin Sapp, and his long list of contributions reads like a "who's who" of the Gospel Music Hall of Fame. This musician, writer, arranger, artist, and producer is undoubtedly one of the best-known and best-respected names in both Christian and secular music.
Percy's luminous talent also caught the eyes and ears of the infamous R. Kelly, for which reason he served as R. Kelly's "go-to guy" for all of his production needs and was also his musical director for the Down Low Top Secret Tour. Later on, their partnership included collaboration on one of the best-known pop songs of our time – I Believe I Can Fly.
Percy on his experiences with LEWITT microphones:
"LEWITT mics have been my constant go-to mics for my projects. From the DTP drum mics – which, by the way, sound amazingly transparent – to the LCT 640, which is my workhorse. You can put it in front of a blaring guitar cabinet, you can use it to record a solo female voice, and literally hours later you can use it on a 25-voice choir or a drum. The LCT 640 just works on about everything! Another thing I love about the LEWITT microphones is their transparency!"
---
Related content