The Echo Bar Studios
"The LEWITT sound – I just describe it as perfect!"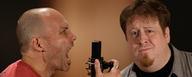 The Echo Bar Recording Studios are a cutting edge, 3000 sq. foot premier recording facility located in North Hollywood founded by Erik Reichers and Bob Horn.  
With two control rooms and a 600 square foot live room with an additional 3 isolation booths the Echo Bar can accommodate a wide variety of artists and musicians.Both studios are designed around modern production and recording techniques using the latest in cutting edge technology.
Erik and Bob have engineered for many of the recording industry's most notable artists including Michael Jackson, Snoop Dogg and James Brown, to name just a few. 
[Erik Reichers] One of the things that always seemed important in our decision to build the Echo Bar was remembering that there are a lot of manufacturers out there who make a lot of different types of gear, including new designs. LEWITT makes quality equipment, which they design from scratch based on the past 65 years of recording technology. We like to think of our approach to making records as progressive ­– we really embrace that equipment, and we do so an amazing environment. Ours is a studio that was designed and built around the concept of using new gear mixed in with tried and true classics. We feel like LEWITT has been progressive in the way they make their microphones – from the noiseless LCT 550 all way up to the LCT 940 tube/FET mic, the one that allows you to blend the tube in or out of the circuit. These are concepts that are amazing in their own right, and they allow you to make really versatile recordings. As studio owners, we're looking to invest in equipment that's high quality and – more importantly – that's also going to give us the best results: we want to be able to do the best we possibly can for the clients we've got coming through.
Learn more about Bob & Erik's drum setup and microphone placement:
[Bob Horn] Eric and I, we both really like the LEWITT mics … not just because we officially endorse them, but because they sound great, and we put that to the test day in, day out. The drummers and guitar players coming through here always ask what microphones we're using, because they always sound great: for example, you can just put them on the piano and you get this nice, big, warm piano sound that's also clean and very open on the high end – you kind of get everything at once. So they've made their mics very forward-thinking and really clear. We didn't buy a lot of those standard microphones that you'd expect, the ones people have at every single studio, because we didn't need to. Quite frankly, if we'd done so, they'd be sitting in the closet and we wouldn't use them, because we're using the LEWITTs. I mean, we have a couple of old mics that are very rare, like ribbon mics, but everything else is LEWITT – we're happy with them and they saved us a ton of money since they're competitively priced. As a studio owner, I can say that that really helped!
Links
---
Related content