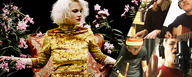 Here are the lucky winners - Music challenge feat. AVEC
Here are the winners
The Music challenge feat. AVEC is over, and we got so many unbelievably cool entries ranging from filming a dedicated music video, acapella versions, instrumental tracks, dance versions, to re-arranging the whole song.  
We want to thank everybody who participated, commented, uploaded, shared, and generally took part in the challenge. We hope you had as much fun being creative as we did listening to your versions.
As you may know, this time we didn't want to have a competition because we thought a challenge where people work together and have fun together would be more fitting. That is why we let a random number generator decide who would be the lucky winners.
And here the lucky ones 🍀
The lucky winners were contacted by email already, and they will get their shiny new microphones soon. 
We hope to have all of you on board for the next challenge. 
---
More stories