Blog
True love for great sound unites us.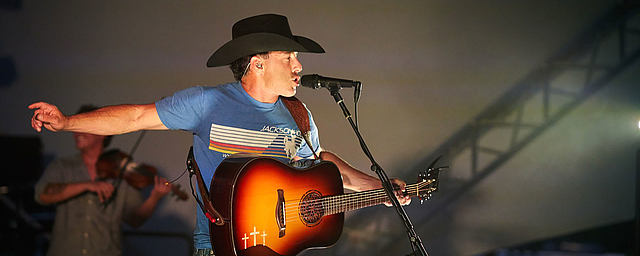 In February 2015, Aaron Watson made history when he released The Underdog, making him the first independent male artist to debut at number one on the Billboard Top Country Albums chart with a self-released and independently distributed and promoted album. Watson is now a worldwide touring artist, and Jared Miller serves as his production manager and monitor engineer.
[LEWITT] Tell us a little bit about what it's like to be touring with Aaron Watson…
[Jared Miller] I've been working with Aaron for over six years now, and the growth that I've been seen is amazing! Aaron is a great guy to work for, and he gives us a lot of freedom on the production side.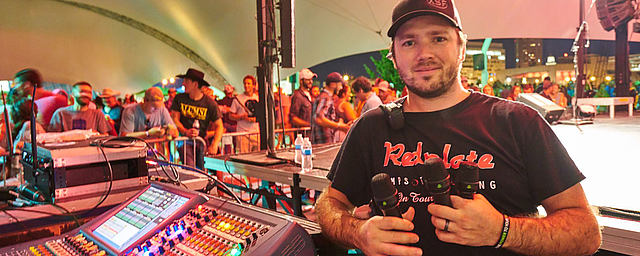 [LEWITT] Over the past few years, Aaron's had the opportunity to use many different microphones, and you've also gone and deliberately tested a bunch of microphones on his voice. Can you tell us which microphone you came up with for him?
[Jared Miller] He'd long been on a Sennheiser 935, and though he liked the sound he heard on the monitors, it didn't work for the front of house engineer. So a year ago, we started experimenting and went through half a dozen different microphones, and the last one we tried was the LEWITT MTP 940 CM. We put it up there for him, and he just immediately loved it. That's what we've been using ever since, and it's been working very well for us. The MTP 940 CM packs the features of a large-diaphragm condenser microphone into a handheld enclosure and has three polar patterns: cardioid, supercardioid and wide cardioid. We're using the supercardioid pattern. Aaron sometimes sings a little bit softer, and having that focused direction on his voice helps him to cut through the front of house, since Aaron also sometimes gets off the mic a little bit and likes to sing to the side of it. So we tried out the supercardioid, expecting that we'd maybe have to open it up to the wide cardioid, but we never needed to. Aaron loves the sound of it all around on the supercardioid pattern. It helps cut down on stage volume with everything bleeding in from the sides, and it gives us a really tight, intimate sound for Aaron's voice.
As Aaron's monitor engineer, do you hear a difference in your monitoring of what Aaron hears?
[Jared Miller] I do! Before we began using the MTP 940 CM handheld condenser mic, I'd always had to do some pretty heavy EQing on the vocal mic to get it where Aaron wanted it sound-wise: present for him without sounding thin. That was always a struggle until we got the MTP 940 CM. With this mic, I found that I could pretty much turn off my EQ, since it already sounded how I'd been trying to get the other mics to sound.
[LEWITT] Has the front of house engineer remarked about how the microphone sounds in his world?
[Jared Miller] He has less bleed from the instruments, so he's able to get the vocals up over the instruments in the mix a lot better. At first, he was really surprised by all the mid-range he was able to use with the MTP 940 CM that he hadn't been able to use before. So basically, it was the balanced sound and the clarity we got without sounding harsh that really stood out.
[LEWITT] What microphones are the other band members using?
[Jared Miller] Our utility player uses the MTP 840 DM on his voice for a couple of different reasons: he's a softer-singing musician and his position onstage is really close to the drums, so we needed something with a tighter pattern that keeps the drums out of his mic but still allows him to hear his voice. We use the mic in active mode to give his voice a little bit more presence, and it sounds great. The mic translates all the nuances of his voice very well without being overwhelmed by any kind of stage bleed around him. The guitar player is using the MTP 550 DM – and you can throw that one on everything, it just sounds great! I don't know, everything just sounds a little bit more in-your-face with it. So I love that on his voice.
[LEWITT] Do you have any final comments about LEWITT?
[Jared Miller] We just got back from our European tour, and the only things Aaron takes along with him are his signature guitar and his LEWITT mic. Obviously, being on in-ears, on a normal rig, sounds great … but there was one show where we had it on monitor wedges, and since I hadn't ever used the mic with monitor wedges before, I wasn't sure how it would react – with it being a condenser and all. Our sound check was really short, and fortunately for us, it sounded great even with wedges! Feedback wasn't an issue, and it helped to transfer Aaron's voice over there and translated really, really well.
Links
---