Blog
True love for great sound unites us.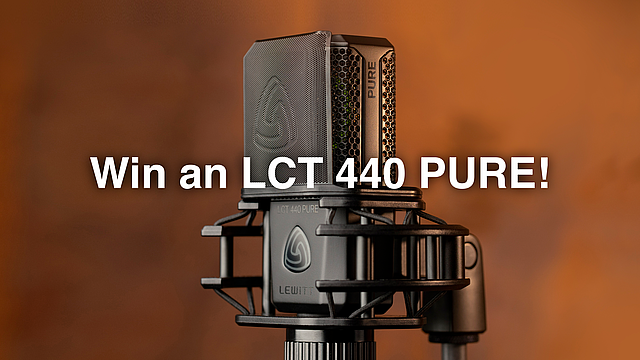 How to enter the giveaway? 
➡ Step 1: Comment on the giveaway announcement on TikTok, Instagram, YouTube, or on all of them. 
➡ Step 2: Make sure that you follow the official profile of LEWITT on the platform that you are commenting on. 
 Deadline for your submission is 12.05.2023 00:00 CET. 
Rules  
You can submit one comment on each of the platforms (TikTok, Instagram, YouTube). There is no need to submit any sort of supporting documents to participate in the giveaway. 
Submission ends on 12.05.2023 00:00 CET. Any entries submitted after this deadline will be excluded from the giveaway.    
The winner will be chosen randomly. 
The winner will be notified via direct message on TikTok or Instagram, or via comment reply on YouTube. 
Terms & conditions 
Giveaway period  
Giveaway submissions can be made between 04.05.2023 00:00 CET and 12.05.2023 00:00 CET. 
Winners announced: 13.05.2023. 
Eligibility  
The giveaway is offered by LEWITT GmbH ("LEWITT") to residents of countries that allow such giveaways. By entering the giveaway, you accept sole responsibility for determining whether your participation is legal in any jurisdiction that applies to you. Participants must be of the age of majority in their jurisdiction of residence and have an active email account and internet access at the time of entry.   
Participation   
Each participant may only enter the giveaway by commenting on the giveaway announcement video on TikTok, Instagram and/or YouTube. Participation in this giveaway is free of charge. No purchase is necessary to enter the giveaway.   
By entering the giveaway, each participant acknowledges the rules as well as the Terms and Conditions and eventually the winners.  
Exclusion of participation   
Employees and executives of LEWITT and their immediate family members or members of the households of such employees and executives (those who have lived in the same household for at least three of the 12 months preceding the applicable competition period) are not eligible.   
Participants who use illegitimate means or try to increase their chances of winning by manipulation of entries will be automatically disqualified and excluded.    
Void where prohibited or restricted by law.   
Winner selection   
The winners will be chosen randomly. LEWITT will pick 3 random winners. 
Final decision. All grading decisions are final.   
Once the grading of the entries is completed, LEWITT will notify the winners via Instagram or TikTok direct message sent to the Instagram or TikTok profile that the entry was submitted through, or via YouTube comment replying to the winner's comment. It is the sole responsibility of the winner to redeem the prize.    
If a winner fails to respond within 14 days of the date of the notification, that winner will be disqualified, and an another winner will be selected for the applicable prize and notified according to this procedure.   
Prizes  
The prizes offered in this giveaway are as follows:   
Winner on TikTok - LCT 440 PURE (MAP 289€)  
Winner on Instagram - LCT 440 PURE (MAP 289€)  
Winner on YouTube - LCT 440 PURE (MAP 289€)  
All potential winners are subject to verification at LEWITTs' sole discretion. A cash payment compensation of the prize value is precluded.    
Limit one prize per applicant.   
General conditions  
If for any reason this giveaway is not capable of being conducted as planned due to infection by computer virus, bugs, tampering, unauthorized intervention, fraud, technical failures, or any other causes which, in the sole opinion of LEWITT, corrupt or affect the administration, security, fairness, integrity, or proper conduct of this giveaway, LEWITT reserve the right to cancel, terminate, modify or suspend the giveaway. If the giveaway is terminated due to tampering or technical difficulties prior to its expiration date, notice will be posted on the LEWITT's website at  www.lewitt-audio.com.  
LEWITT reserves the right to change the deadlines and/or the judging period and terms of participation.    
Overall terms & conditions are governed by Austrian law.    
Data privacy   
LEWITT affirms that all personal data submitted by the participant is only used for the purpose of the giveaway and contacting winners. Read more about our privacy policy: https://www.lewitt-audio.com/about/privacy 
Limitations of liability   
LEWITT are not responsible for late, lost, illegible, or misdirected entries, whether caused by technical malfunction, human error or traffic congestion, or any combination thereof.    
LEWITT are not responsible for injury or damage to participants' or to entries. In no event will LEWITT, vendors, advertising agencies, and/or each of their respective directors, officers, employees, representatives, or agents, be responsible or liable for any damages or losses of any kind, including direct, indirect, incidental, consequential or punitive damages arising out of your participation in this giveaway.    
Without limiting the foregoing, everything in this giveaway is provided "as is" without warranty of any kind, either express or implied, including but not limited to, the implied warranties of merchantability, fitness for a particular purpose or non- infringement. Some jurisdictions may not allow the limitations or exclusion of liability for incidental or consequential damages or exclusion of implied warranties so some of the above limitations or exclusions may not apply to you.    
Check your local laws for any restrictions or limitations regarding these limitations or exclusions.   
Disputes  
As a condition of participating in this giveaway, you agree that any and all disputes which cannot be resolved between the parties, or any persons affiliated with the giveaway (including without limitation, judges), claims and causes of action arising out of or connected with this giveaway, or any prizes awarded, or the determination of the winner shall be resolved individually, without resort to any form of class action, solely and exclusively in the competent court of Vienna, Austria.   
Further, in any such dispute, under no circumstances will you be permitted to obtain awards for, and you hereby waive all rights to claim punitive, incidental or consequential damages, or any other damages, including attorneys' fees, other than your actual out-of-pocket expenses (i.e., costs associated with entering this giveaway), and you further waive all rights to have damages multiplied or increased. All issues and questions concerning the construction, validity, interpretation, and enforceability of these Rules, or your rights and obligations or LEWITT rights and obligations in connection with this competition, shall be governed by and construed in accordance with, the laws of Austria.   
Social Media   
This competition is not connected to Facebook, Instagram, TikTok, Soundcloud, YouTube or Twitter and is not sponsored, supported or organized by those social media channels in any way.    
The participant agrees to comply with Facebook's, YouTube's and/or Instagram's terms & conditions. 
The promoter of this competition  
LEWITT GmbH   
Schanzstraße 14   
1150 Vienna, Austria   
---