Supersonic Blues Machine
"LEWITT definitely has a very innovative paradigm"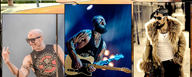 Supersonic Blues Machine is an ever-evolving music community of friends and guests that's aimed to bring the crowds a true "one of kind" music experience, just like you could have lived as an active music lover & concert goer at the end of the 60's or early 70's!
After touring as the rhythm section of the jam band Goodfellas (side project of legendary guitarist Steve Lukather),  Italian born (but American naturalized producer/writer/bass-player) Fabrizio Grossi (Steve Vai, Steve Lukather, George Clinton & P-Fink, Billy F.Gibbons, Alice Cooper, Joe Bonamassa, Eric Gales etc.) and New York native (but Indiana raised) drumming legend Kenny Aronoff (John Mellencamp, John Fogerty, BB King, Paul McCartney, Dr. John, Smashing Pumpkins , etc.) wanted to continue and expand the Goodfellas concept.
Cementing their rhythmic chemistry with lots of live performances, and studio projects featuring recordings with artists such as Leslie West, Joe Bonamassa, Slash, Zakk Wylde , etc., their determination to create something more than just a "session ensemble for hire" grew exponentially.
It was when living legend Billy F. Gibbons (of ZZ TOP fame) contacted Fabrizio to collaborate on the writing/production of a song for an upcoming commercial, that all pieces came together. The song didn't become a commercial after all, but had Gibbons giving Fabrizio the suggestion to write "9 more songs" and start a band, with whom he would have loved to jam with whenever ZZ Top's schedule would allow it. Kenny Aronoff immediately tracked drums to it, and the song  "Running Whiskey" ended up becoming the first single of Supersonic Blues Machine's . Several other legendary musicians such as Warren Haynes, Eric Gales, Lance Lopez, Robben Ford, Walter Trout and Chris Duarte joined the party, very successfully narrated in the band first release.
The band's first record, "West of Flushing, South of Frisco," (produced and mixed by Fabrizio Grossi and released in February 2016) was very well received by critics, media, and fans alike and over exceeded the band and the label's expectations as well.
Even though taking on the road such a large flamboyant ensemble of talents, it wasn't an easy task. Supersonic Blues Machine managed to perform almost exclusively as a headliner in a series of very prestigious Festivals and events around the world (Holland, USA, Russia, India, Norway, UK , etc.). Noticeable were the band's "legendary" performances at the Notodden Blues Festival 2016 and a "Take no Prisoner" Soul/Funk/Rocking Extravaganza at the 2017 edition of the Rambling Man Fair.
After hosting on stage iconic staple names such as Billy F. Gibbons, Steve Lukather, Jonny Lang, Walter Trout, Lucky Peterson, Robben Ford, Eric Gales, Guitar Shorty, Shemekia Copland , etc., Supersonic Blues Machine entered the studio to finalize its sophomore record, a California teamed monster house titled "Californisoul," again produced and mixed by Fabrizio Grossi. The record was released once again on Mascot/Provogue Worldwide on October 2017 debuting at# 7 on the Billboard top 10 Blues Charts. Just like its predecessor, "Californisoul" has been featuring a lot of guests appearances by the band closest friends (this time with the addition of Steve Lukather) collecting unanimous boasting reviews from the press, great support from critics and fans worldwide, and its draw doesn't seem to slow down any time soon.
Supersonic Blues Machine's brand new line up for the 2018 series of live performances features Kenny Aronoff on drums, Fabrizio Grossi on MD, bass and backing vocals, and UK's Blues-Rock sensation Kris Barras, picking up lead vocals and guitar duties. They will be joined by a long list of sidemen and special guests to continue the successful streaks of live Jam performances that has made the band one of the most exciting names in the Rock-Blues & Soul genres internationally.
Supersonic Blues Machine about their LEWITT microphones:
Fabrizio Grossi: "The blanket is off with these mics! There are a lot of good microphones out there: especially for recording or live performances, you have those standard names and workhorses that everybody likes to use. Don't get me wrong, I like to use them too. But if you have to rely only on one of those usual suspects, the first thing that comes to my mind is when you're talking dynamics: they're not necessarily detailed. They're sometimes dark, sometimes muffled, not really open – like having a blanket that kind of limits your head room or the frequencies that you'd normally capture under different circumstances by using a different microphone. The MTP 550 DM, on the other hand, just became my favorite microphone: obviously, it's a dynamic microphone, but it has the clarity and the range as well as the smoothness, and it's also sturdy. In other words, when you're using those high-end microphones that can handle huge ranges of frequencies, they're kind of delicate, very touchy – you just kind of move it a little bit, and all of a sudden, it's Armageddon. These LEWITT mics, on the other hand, have the same workhorse-qualities but are easier to use, easier to position, and easier to handle than the usual suspects, and they give you sound definition, clarity, and headroom that you'd otherwise only find in way more expensive – generally, condenser – microphones. For me, that's a major plus, along with the fact that they sound very natural."
As a young Texas guitar prodigy, Lance Lopez shared the stage with the likes of Johnnie Taylor, Lucky Peterson, and Buddy Miles. And as a guitar-slinging solo artist, he's gone on to create a whole slew of fire-breathing, post-SRV-meets-Hendrix blues-rock albums.
Lance Lopez: "I love to bring my MTP 550 DM with me everywhere I go. It's my go-to microphone for lead vocals, and it just captures everything that my voice is supposed to deliver. It's been such a phenomenal microphone, I've gotten a lot of comments from lots of front of house engineers when I've shown up at festivals or big venues, and whenever live engineers are there, I always tell them: "No, I have my own vocal mic," and when I put the MTP 550 DM up and they hear it, they're like, "Wow!" So I've seen many sound engineers who've been really impressed by the sound of that mic. That's one thing that assures me that the LEWITT MTP 550 DM is just a phenomenal microphone that delivers everything that it's supposed to."
The third part of the band's core is Indiana native drummer Kenny Aronoff, who brought along his experience working with a huge collection of artists such as John Mellencamp, Smashing Pumpkins, Meat Loaf, Brandon Flowers, John Fogerty, Red Hot Chili Peppers, Joe Cocker, and a host of others.
Kenny Aronoff: "I've been using the MTP 440 DM on my snare. Both in the studio and live the engineers love it – so it's really my favorite mic, too! I think LEWITT definitely has a very innovative paradigm going, and they've carved out a special niche for themselves in the recording business!"
Links
---
Related content