Elliott Randall
"My LCT 640 is never in its case."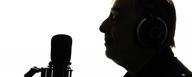 Widely celebrated for his immortal solos on Steely Dan's "Reeling In the Years," Elliott Randall was also a member of Seatrain in 1969, and he formed his own band – Randall's Island – in 1970. The bulk of his career, however, has been spent as a first-call session musician, contributing to hundreds of recordings by everyone from members of Kiss to The Blues Brothers to Peter Frampton and Yoko Ono, as well as writing additional Steely Dan discs and the motion picture soundtrack to Fame. Elliott has also scored Hollywood movies, produced advertisements for Fortune 500 corporations, worked as a technical consultant for musical instrument manufacturers, and toured with major artists as a hired gun.
The guitarist and producer continues to perform on both sides of the Atlantic, and he's constantly recording.
Elliott Randall about his microphones of choice: "I've been loving the LEWITTs I've been using over the past several years. One of them is the LCT 640, which is a condenser microphone with a wonderfully wide array of polar patterns – five, to be exact. It's got a nice, large diaphragm, so it will really vibrate beautifully to the sounds that it's picking up. It's almost a "one size fits all," and I mean that in the fondest of ways: you can use it on virtually any instrument, and it will deliver in spades – it's just fantastic!"
I used the LCT 640 on this couch vid where I put it on "Blue Lou" Marini's tenor sax. The recording space was not large, and Lou's was the only acoustic instrument; the other two players were myself and John Tropea on electric guitars. I wanted as little "spill" from the guitars as possible, so I chose the extreme hyper-cardioid pattern. Although the three of us were in very close proximity, you could barely hear a peep at all from the guitars – and oh, the sound of Lou's tenor was absolutely warm and heavenly!
Its bigger brother is the LCT 940, which makes use of a 12AX7 tube and has its own power supply. It's very similar in sound to the LCT 640, except that it's a bit warmer because of the tube – though it's important to note that the LCT 940 combines a premium large-diaphragm FET condenser microphone and a top-notch tube microphone in a single housing. In any case, you can't go wrong with either. My LCT 640 is always out and never in its case, because I use it constantly. And then there are times – when I want to warm up the sound even more, like on a really nice tenor saxophone or sometimes a voice – that I'll use my LCT 940. They're just terrific … I'd actually call them instruments.
---
Related content