Keith Harris
"LEWITT brings out the natural sound of the instrument or voice!"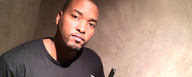 Grammy Award winning record producer, songwriter, music director, touring drummer, multi-instrumentalist and music veteran Keith Harris is the DaVinci behind many of the top recording and live acts on the pop scene today. Gearing up for a tour with Fergie, Keith has produced or writen hits like Meet Me Halfway and Imma Be by The Black Eyed Peas, It's My Birthday by Will.I.Am, American Boy by Estelle, Feel Good by Robin Thicke, Can't Stop Won't Stop by Usher, and Gang Bang by Madonna, just to name a few of the many songs, that platinum selling artists entrusted to Keith for his composing and producing skills.
Performing live, Keith as drummer, is that driving force beatmaster on that drum throne for multi-platinum selling recording artists The Black Eyed Peas and Fergie. In addition, Harris' album credits read like a who's who of the music industry including Michael Jackson, Mary J. Blige, Mariah Carey, Christina Aguilera, Chris Brown, Pussycat Dolls, Earth Wind and Fire, Ricky Martin, John Legend and many more.
In addition to producing mega-hits, Keith Harris is also a musical director, creating that live show excitement and musical balance for such megastars as Megham Trainor, Fifth Harmony, Backstreet Boys, Cheryl Cole, and more. 
As a Berklee College of Music graduate, with a degree in music production and engineering, Keith has the chops, and personality to translate not just the musical ideal, but the spirit and vibe of every artist for which he interacts.
Keith about LEWITT: 
"I love my LEWITT Beat Kit Pro drum mics - I use them all the time. Everyone raves over my studio drum sounds. I have recorded drums for Fifth Harmony, Backstreet Boys, Meghan Trainor, Estelle, Goapelle and more. Hands down, the best drum mics I've ever used. The LEWITT Beat Kit Pro drum mic kit sounds amazing! 
As a producer, I also love their vocal mics. The LCT 640 large diaphragm FET mic is very transparent, and it brings a clarity to the vocals. It gives warmth and top end that is not harsh which makes the vocalists shine. I recording vocals with with Estelle, Goapelle, Nick Carter (Backstreet Boys), and more, using the LCT 640. I also use it with a lot of horn players. They like the way the LEWITT brings out the natural sound of the brass without getting harsh.
I have been a LEWITT mic fan since 2011 and I love the rich sound of the LCT 840 tube mic, which I used on Estelle's The Same on her album True Romance."
---
Related content