Blog
True love for great sound unites us.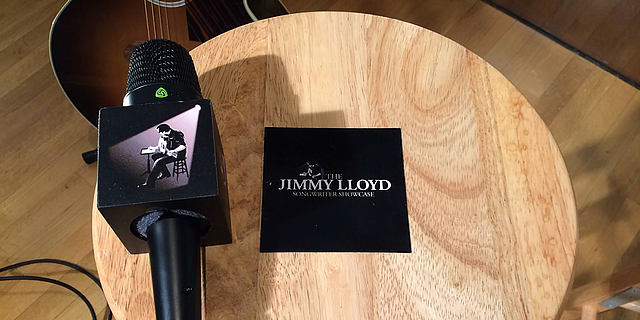 As executive producer and host of The Jimmy Lloyd Songwriter Showcase (JLSS), a nationally syndicated staple of NBC's digital programming, Jimmy has forged a reality of his own making – a world in which musicians can telegraph their voices to the widest-possible audience, and in which art and message, rather than connections and credits, loom large. Often touted as "Inside the Actors Studio for songwriters," JLSS is in fact an entirely unique enterprise based on the concept that good music with meaningful lyrics can ultimately build a community. The show's association with the NBC brand is a huge boon to artists seeking to pair their genuine talent with a legitimate platform. But while Jimmy keenly appreciates the power of that branding, he also recognizes the need to keep things simple. To this end, performances on JLSS tend to be on the spartan side, stripped down to the songwriter(s) and an acoustic instrument or two. Jimmy, who describes himself as "very lyrically driven," wants viewers to concentrate primarily on a song's sentiment and narrative when they tune in – and in keeping with this, the show's tagline states: "When the tattoos fade, it's just you, your song, and your soul."
[LEWITT] Tell us a bit about The Jimmy Lloyd Songwriter Showcase...
[Jimmy Lloyd] I originally created the show back in 2009 and developed a relationship with NBC in New York. At that time, they were about to launch their first digital TV network, so there was a window of opportunity. And as a songwriter, I recognized that it was a tremendous chance to bring attention to a lot of great, talented songwriters and build a platform for them. I also knew that one of the biggest challenges for all those songwriters and bands is to get that platform and have some sort of an outlet to make other people aware of their music. So once I'd established the initial relationship with NBC, we pitched the show and received very positive feedback. NBC then launched the show in its nine largest markets, and we enjoyed almost four years of national distribution. That, of course, coincided with the tremendous demand for premium video content online, in the digital sphere. So it really bridged the gap between the original intent to create a platform that brings attention to up-and-coming songwriters and managing the whole segue into the digital video revolution, which continued to expand our distribution opportunities. We started out as a traditional television program, but for the past several years, we've been primarily digital: we run on Amazon TV, we run on Apple TV, and from time to time we syndicate the content out, so the videos we've shown can also appear on hundreds and hundreds of premium websites across the world.
[LEWITT] With your show, people can go and watch the videos, and they're beautifully put together. How many people are in your crew when you do this?
[Jimmy Lloyd] Back when we started, I had no experience in production, and I saw myself as a songwriter first who'd developed an opportunity that was just too big to miss. So initially, I'd outsource the actual filming work, hiring very expensive crews to come in and produce the content. But that became economically unviable, so four or five years ago, I started building a team. And in the same way that I approach songwriting (which is: methodically), I also had to understand how video content production works. So I started to listening to cameramen, editors, media managers, lightning folks, sound engineers … and now I've got a team consisting of 12 people who've been with me for the past four years. Because we started out as a television show on NBC, there was a very high bar to clear in terms of production values. We've continued to uphold that, and I think it has a lot to do with credibility of our content and the songwriters that we feature – because we're doing 7 or 8 camera shoots, two takes a piece, putting a lot of effort into set design, lighting, editing, post production, sound engineering … and so it's not just about producing the content, it's about producing the content to a very high standard of quality.
[LEWITT] Speaking of a high standard of quality, can you tell us about the microphones you're using?
[Jimmy Lloyd] For the better part of the past four years, we've been using almost exclusively LEWITT microphones like the LEWITT MTP 840 DM, an exceptional mic that we use primarily for vocals. The MTP 840 DM has a great design, it's durable, and it produces great quality sound. We use the LCT 340 small pencil condenser microphones to mic up the acoustic guitars, and they also sound great. Sometimes we're shooting 20 musicians a day, and these mics convinced us with their exceptional quality in terms of the sound they produce – and we've just been extremely satisfied with the outcome of what they deliver for us.
[LEWITT] Any final words about LEWITT?
[Jimmy Lloyd] I'm just incredibly impressed with the LEWITT microphones and all the folks from LEWITT. I think they're tremendous supporters of the artistic community, and I think that their products reflect that. They don't seem to develop their products without the input of the artists and engineers for whom they're intended, so I think their overall approach and appreciation for the artistic community go a long way in terms of the products they develop.
---