Blog
True love for great sound unites us.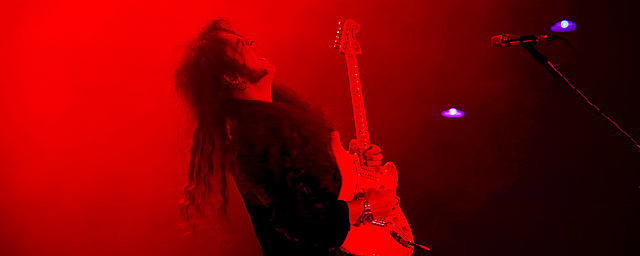 Exciting times for all Yngwie Malmsteen fans! The undisputed master of neo-classical guitar just released his new album Blue Lightning and pays tribute to his favorite blues and rock guitarists. He has masterfully transformed classics like Smoke On The Water, Purple Haze and While My Guitar Gently Weeps into his own inimitable style, and wrote and recorded 4 new tracks for this record. 
In a video trailer about the album (below), Yngwie explains: "I grew up in a classically trained family, and people know me for playing in what is called a neo-classical style. But when I got a guitar for my fifth birthday, what I would try to emulate were John Mayall & The Bluesbreakers – I would jam along to what they did on record with Eric Clapton (Blues Breakers With Eric Clapton album, 1966). That's something people don't realize about me – I do have a strong interest in the blues." 
What some people don't know as well is that when it comes to recording on touring Yngwie's weapons of choice are LEWITT microphones (and we obviously feel very honored about that fact). Yngwie recorded his vocals for the album with a special white version of the LCT 940 and comments: "Nothing I have ever used sounds as amazing as the LEWITT LCT 940. As for me, I'm pretty loud when I sing, and I like how the tube reacts to my singing because it gives me a very full tone. But the zing (as my engineer calls it) from the FET is very important too because it gives you the definition. So yeah, I've used everything, starting with the old German mics and stuff like that … but the LCT 940 is a totally amazing microphone, and I'm completely blown away by it!" 
If you're located in the US, you're lucky, since you'll have the chance to see Yngwie live. The tour starts today and everyone who has ever visited a Yngwie Malmsteen concert knows that it is going to be spectacular! While the guitar virtuoso tours with the MTP 440 DM mic to capture his signature guitar sound, he uses an MTP 550 DM in a special chrome finishing and says the following about his stage vocal microphone: "On my last tour, I used fifty-four 100 watt Marshall heads and twenty-four 4x12 cabinets, so I played very loud – and being the singer now, I have to be able to get as much volume as I can without feedback, obviously, and also without EQing out all the nice stuff and basically having a honky sound – because that's what happens if you EQ everything to get rid of the feedback, you kind of lose the sound, too. So the MTP 550 DM has all I need, and I'm extremely pleased with it. It's very true-sounding, and it can handle the volume as well – and mine's done in chrome, too, which I like it even better." 
We cross our fingers, that he will head over to Europe after his US tour. Just be quick with your tickets, they're selling fast!
Here are the dates for 2019: 
APR 13 Oddbody's Dayton, OH 
APR 24 Varsity Theatre Baton Rouge, LA 
APR 25 House of Blues New Orleans New Orleans,  
APR 26 Warhouse Live Houston, TX 
APR 27 Gas Monkey Live! Dallas, TX 
APR 28 Vibes Event Center San Antonio, TX 
MAY 1 Marquee Theatre Tempe, AZ 
MAY 2 Rialto Theatre Tucson, AZ 
MAY 3 The Canyon Santa Clarita, CA 
MAY 4 House of Blues San Diego, CA 
MAY 5 House of Blues Anaheim, CA 
APR 27 - Gas Monkey Live!Dallas, TX 
APR 28 - Vibes Event Center San Antonio, TX 
MAY 1 - Marquee Theatre Tempe, AZ 
MAY 2 - Rialto Theatre Tucson, AZ 
MAY 3 - The Canyon Santa Clarita, CA 
MAY 4 - House of Blues San Diego San Diego, CA 
MAY 5 - House of Blues Anaheim Anaheim, CA 
MAY 7 - The Tower Theater Fresno, CA 
MAY 8 - House of Blues Las Vegas Las Vegas, NV 
MAY 9 - The Canyon Events Center Montclair, CA 
MAY 10 - Empress Theatre Vallejo, CA 
MAY 11 - The Rose Pasadena, CA 
MAY 14 - The Oriental Theater Denver, CO 
MAY 15 - Royal Grove Lincoln, NE 
MAY 16 - Arcada Theater St. Charles, IL 
MAY 17 - St Croix Casino Turtle Lake Turtle Lake, WI 
MAY 18 - Hard Rock Hotel & Casino Sioux City, IA 
MAY 22 - Sony Hall New York, NY 
MAY 23 - Tupelo Music Hall Derry, NH 
MAY 24 - The Katharine Hepburn Cultural Arts Center Old Saybrook, CT 
MAY 25 - The Ardmore Music Hall Ardmore, PA 
MAY 29 - Sellersville Theater Sellersville, PA 
MAY 30 - Ridgefield Playhouse Ridgefield, CT 
MAY 31 - Infinity Hall Hartford Hartford, CT 
JUN 1 - Seneca Niagara Resort & Casino Niagara Falls, NY 
JUN 2 - Starland Ballroom Sayreville, NJ 
JUN 4 - The Pabst Theater Milwaukee, WI 
JUN 5 - Manchester Music Hall Lexington, KY 
JUN 6 - The Masquerade Atlanta, GA 
JUN 7 - Capitol Theatre Clearwater, FL 
JUN 8 - The Plaza Live Orlando, FL 
Here's the album trailer
Links
---