Hallur Jonsson
"LEWITT mics make the soundcheck extremely easy."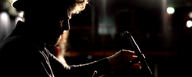 Hallur Jonsson is the FOH engineer of Eivør and an essential part of her live shows.
Hallur about his experiences with LEWITT:
"I got the opportunity to try out a few LEWITT microphones on a UK tour back in 2017 and it has changed my life. The first night we used them was at our headline show at the famous Bush Hall in London. I could immediately tell from the build quality and great tones that these mics were special from LEWITT. I've been using all LEWITT mics now on the band ever since, for well over 50 shows and they have been all over the world. I can't imagine not having them with us. They are truly a part of Eivør's sound!
The MTP 940 CM is a huge favorite of mine. I managed to switch Eivør onto it for her lead vocal, replacing another established brand she had used for 18 years!!! I would say that's pretty cool! I use one for Eivør and one for Høgni (our drummer) on his backing vocals and drums. I have them both set to super cardioid which is a brilliant feature to have. I could actually list all the Lewitt microphones as my favorites as they make my job even more enjoyable, but the MTP 440 DM is one of the top ones, has it never been easier for me to get a snare drum to sound great. We don't tour with our own console just yet so we dial the band in each night in every venue. LEWITT mics make the soundcheck extremely easy giving me valuable time back pre-show.  I used an LCT 440 PURE for vocals at a semi-acoustic show in Dortmund earlier this year and I was blown away by its performance, too."
---
Related content