Bibi McGill
"LEWITT mics pick up all the microtonal nuances in the voice!"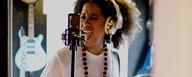 How many people can simultaneously call themselves a world-renowned guitarist, a world-renowned yoga instructor, and a music producer? One: guitar hero Bibi McGill.
Belinda "Bibi" McGill is best known as the lead guitarist and musical director of Beyoncé as well as for her work with Pink, Paulina Rubio, and Chilean rock group La Ley. Bibi joined Beyoncé's 10-person, all-female band Suga Mama in 2006 as lead guitarist, later becoming its musical director. With Suga Mama, she's toured around the world and also played at the White House in front of Michelle Obama and at the Super Bowl halftime show in 2013, performing a guitar solo that was on fire not just thanks to the pyrotechnics.
But after touring with Beyoncé for 7 years, Bibi decided to leave the touring life behind to concentrate on a holistic combination of mindfulness, music, and yoga. And around her hometown of Portland, she's also famous for Bibi Kale Chips – her very own organic, raw, vegan, gluten-free version of the snack. Even so, Bibi also works as a producer with artists such as Gurunam Singh, Entheo, and Seastar Waters.
We met Bibi and asked her why LEWITT is her microphone brand of choice:
"I was introduced to LEWITT while on a stadium tour with Beyoncé. I'd heard great things about them – and after actually using them, LEWITT's became my mics of choice.
My LEWITT large-diaphragm condensers LCT 540 and LCT 640 have amazing transparency, giving me crystal clear vocals and picking up all the breathy, microtonal nuances in the voice. I find that I don't have to add much of anything to the mix: it sounds like the artist and makes them shine with a great combination of warmth, clarity, and articulation. They're very versatile no matter whether you're recording a guitar part, a boomy baritone, or a child. That's why I chose LEWITT.
I also do on-location recording with LEWITT because I don't always need the fancy bells and whistles of a $5,000-a-day studio. With LEWITT, everything I need is in the quality of their mics and how they make an authentic imprint of the sound being recorded. I can make a recording studio out of wherever I drop my mic and my computer."
Asked about her recording experiences with the LCT 540 and the LCT 640, Bibi told us this:
"I've just been in my studio producing my first album with a client who has 8 albums out already. I'm using the LEWITT LCT 640 for vocals, and believe me: this baby picks up all the microtonal nuances in the voice. My client had originally wanted to do final vocals in a larger studio, but after working with the LCT 540 and LCT 640, we realized that what we thought were going be scratch vocals are sounding like final vocals. So we've decided to do all the final vocals here in my studio with LEWITT. LEWITT for the win!!!"