Lil' John Roberts
"LEWITT is the icing on the cake!"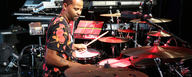 John has been using LEWITT mics for the last 4 years when he was touring with Neyo and Stevie Wonder, and he's using them on Janet Jackson's Unbreakable world tour as well.
Having worked and recorded numerous records with George Howard who turned him onto the Contemporary Jazz Circuit. John found himself working nonstop with Jazz artists such as Herbie Hancock, George Duke, Najee, George Benson to name a few. John's list of credits also include many of the industries greatest such as: Stevie Wonder, Quincy Jones, Prince, Sheila E, Mary J. Blige, Janet Jackson, Michael Jackson, and a host of others. John's television credits are incredible and the list is too long to even start naming them all. After producing with various Jazz and Funk Artists such as Walter Beasley, Rachelle Ferrelle, Dionne Farris, Russell Gunn, Blackbeard, up and coming artists as well as his band The Chronicle and completing records with Anita Baker and Kirk Whalum, John has concentrated his efforts on his debut album, Heartbeat released March 2014. Heartbeat features friends of Lil' John such as Stokley of Mint Conditon, Eric Roberson, Robert Glasper, Anthony David and a number of up and coming artists. 
We met Lil' John on tour with Janet Jackson for an interview and asked him about his experiences with LEWITT microphones:
Links