Rie Tsuji
"Our LEWITT mics are the only pieces that get used on every major session!"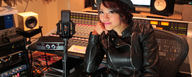 Originally from Saga, Japan, Tsuji started out as a classical pianist and went to Tokyo College of Music before coming to Berklee. From 1991-1998, she won several awards in the Japanese Music Competition for classical piano performance. She studied at the Belarus and Tokyo Conservatory, moved to Boston and here she cut her teeth with the next generation of modern jazz musicians such as Andre Ward, Robin McEllhatten, Darren Barrett, among countless others. In January 2006, she joined R&B vocalist Eric Benet on his album tour. Other Artists that Rie has worked with include Monica, Jay-Z, Destiny's Child, Esperanza Spalding and the Roots.
She got hired as keyboard player for Beyonce's band. Rie also did the strings arrangement for Beyonce's show I am yours... in 2009 and the Live at Roseland in 2011. Rie also arranged and directed the strings for Beyonce's performance at the White House for President Obama in May 2010. She did 3 of her world tours as a keyboard player and Assistant Musical Arranger.
Riu about LEWITT: "Our LEWITT mics are the only pieces that get used on every major session here at Riro Muzik. And we record everything from pop/rock to jazz and classical music. Using it on Piano, Drums, Acoustic and Electric Guitar, Rhodes, Hammond organ, Horns, Strings and of course Vocals. The LCT 940 is the go to mic when the instrument/vocals needs to be featured! Just close your eyes and dial in the sweet spot between FET and TUBE and the job is done!"
Links