Cole Rolland
"LEWITT seriously holds it down when it comes to consistency and quality."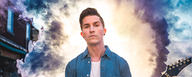 Cole Rolland is a professional guitarist and music producer. Over the years, Cole has garnered a tremendous online following of more than 800,000 YouTube subscribers and 100,000,000 video views. His top-notch video and audio production skills along with his professional branding knowledge have made him a truly reputable artist both online and in a live setting.
Cole has shared the stage with major acts such as Illenium, Adventure Club, Krewella and Ookay. His unique approach towards bringing a 'live instrument' aspect to electronic music has received recognition from top artists in the scene.
Cole currently uses the LCT 540 S in collaboration with partner Lauren Babic to record covers for YouTube in a home studio. "LEWITT seriously holds it down when it comes to consistency and quality. I'm beyond impressed with what they are producing and more than happy to say that the clarity, reliability, and warmth that the LCT 540 S microphone delivers more than suffice to create the sound I'm looking for. I'm so pleased to be a part of the LEWITT family, great product and great people!"
Listen to Cole Rolland's Paramore cover of their song "Decode" feat. Lauren Babic
---
Related content