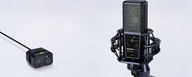 Review DGT 650
Bedroom Producers Blog
Thanks for this informative review and video of the DGT 650 by Tomislav Zlatic, a journalist, music producer and web designer from Belgrade, Serbia, who also owns the Bedroom Producers Blog
Conclusions: "One of DGT 650's biggest strengths is the amount on recording modes on offer. The mic can be used in X-Y stereo mode which is suitable for podcasting, field recording and capturing live performances; cardioid mode for recording vocals and instruments; stereo line-in mode for recording stereo sources directly and, our absolute favorite, the Singer/Songwriter Mode which records the microphone and line input as separate tracks.
For a mobile user, Lewitt DGT 650 is a fantastic portable recording solution that offers compatibility with all major platforms. Whether plugged into a laptop or connected to on iOS device, it's a great way to get high quality audio recordings on the go. For use in smaller studios or minimalist home based setups it also makes a lot of sense, since having the USB microphone and the audio interface combined in a single package saves a lot of space while providing all the necessary audio recording features.
One of the most impressive standout features is the singer/songwriter mode which is a godsend for composers and solo artists who want to capture their ideas quickly and in high definition. It is much faster than using a cumbersome studio setup, while offering high quality multi-track recording that can't be achieved with a phone or a field recorder.
DGT 650 is a versatile and extremely easy to use plug and play tool which provides great sounding results and fantastic features for the price. The package contains everything you need to start recording high quality audio on your iPhone, iPad, or laptop. If you're looking for a high quality USB microphone that can handle anything from recording vocals in a studio to capturing the performance of your band, podcasting, or even field recording to an iOS device, you can hardly go wrong with Lewitt Audio's impressive DGT 650 mic."
---
Related products
DGT 650
Compatible with iOS // OS X // Windows
USB stereo microphone 
Integrated audio interface
Breakout box
---
More stories