Nathan East
"The LCT 840 has a warm, full, and very rich sound!"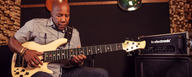 With over 2,000 recordings under his belt, Nathan East is considered one of the most-recorded bass players in the history of music. And the very first touring band he worked with was no less than Barry White's Love Unlimited Orchestra.
Nathan, who is also a founding member of the chart-topping contemporary jazz group Fourplay, was just 16 years old when he got his first break and found himself on the road with Barry White. The next time his phone rang, Quincy Jones was on the line. The calls just kept on coming, and for the past forty years, Nathan has been churning out hit songs with artists as legendary as Eric Clapton, George Harrison, Michael Jackson, Phil Collins, Whitney Houston, Beyoncé, Barbra Streisand, and Stevie Wonder.
His genre-crossing groove has earned him both recognition – including by the U.S. Congress for his contributions to the worldwide music community – and the boundary-busting respect of his peers, which is exemplified by his current appearances on two hit records as different as Andrea Bocelli's Passione and Daft Punk's Random Access Memories.
2014 saw Nathan release his self-titled debut solo album, which contains guest appearances by Michael McDonald, Sara Bareilles, Stevie Wonder, Eric Clapton, Kazumasa Oda, Bob James, Chuck Loeb, Ray Parker, Jr., David Paich, and his 13-year-old son Noah East.
Nathan East about the LCT 840:
"The LCT 840 has a sound that, especially when I closed my eyes, kind of felt like it was caressing me – it was a warm, full, and very rich sound – and from the moment I heard it, it just sounded very true and real as if I were listening inside the bass, and it generally has a lot of qualities that I enjoy in the sound of a microphone. I don't want the sound of the instrument shaded or in any way colored by the microphone's own sound! I'm looking for all the notes to speak on my bass – and I have a low B, which is actually a fourth lower than what you have on a normal bass. So that's a range that's really full, and you need to have a microphone that captures it all.
So I do look for a lot in a sound – and I'm very impressed with the LEWITT microphones, which really do seem to capture the full range of the bass sound."
---
Related content