Dontae Winslow
"The LCT 640 mic records with clarity and great detail!"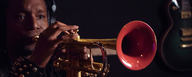 Trumpeter, producer, arranger, and educator Dontae Winslow is an in-demand freelance musician with a background in classical music, jazz, and contemporary R&B. His last album, entitled Enter The Dynasty, is an eclectic mix of straight-ahead jazz, blues, funk, and hip-hop soul. The project includes amazing guests artists: Ahmir "Questlove" Thompson, Roy Hargrove, Mashica Winslow, Jedi, Dennis Chambers, Antonio Hart, and jazz piano legend Chick Corea. 
Dontae was trained in music at the Baltimore School for the Arts, and he attained a Bachelor of Arts degree in classical music performance from the Peabody Conservatory of the John's Hopkins University. That esteemed institution is also where he received his master's degree in European classical music performance.
Dontae has toured with multi-platinum R&B artist D'Angelo, Justin Timberlake, and many others. And he's also performed with master Clark Terry, The Roots, Stevie Wonder, Larry Willis, and the Baltimore Symphony Orchestra, to name just a few.
As a songwriter, composer, and music producer, Dontae wrote the opening orchestral fanfare to the #1 Billboard Compton Album from the soundtrack to the movie Straight Outta Compton and has also worked with Jay-Z and Kanye West. 
Dontae played the trumped with great tone and technique at the huge LEWITT microphone shootout and after the session we talked about his microphone of choice and his experiences. 
[LEWITT] Tell us a little bit about your experiences today at the microphone shootout? 
[Dontae Winslow] Today's microphone shootout was awesome. I think putting together a microphone shootout is very educational. Being a gearhead myself, I used to do mic shootouts very often, to know which mic is the best for the situation. So it's great to have shootouts, to hear for yourself, what the difference is. Today it was really informative, to play on so many mics at real time with the same instrument and the same performance, so that the people have the chance to experience what a mic sounds like in different situations. I'm glad that I still stand by the LEWITT mics, because I recorded many projects with them. I love their clarity and they are very stable.
[LEWITT] What's your microphone of choice?  
[Dontae Winslow] The LCT 640 mic records with clarity and great detail. In my opinion, the LCT 640 is best at multi-tracking and stacking both vocals and instruments. I'm able to capture everything from a subtle whisper in background vocals to the screaming dynamics of a trumpet without audio distortion. 
I've used it in that capacity to great effect, and many producers I've collaborated with have called me back and asked 'Hey man, what did you use? This sounds different…' And I say, 'You know, that's a little secret I got,' because I hate telling my secrets with all the equipment I use. 
This particular microphone is very special – it's a signature. I love my LEWITT. And I've also been using it for mobile recording on tour. This is my go-to mic!
Links
---
Related content