Will Champlin
"The MTP 940 CM stands out!"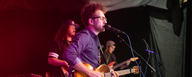 Will Champlin was born in Los Angeles, where he grew up as part of a musical family. He holds his own all over the music industry, from playing piano on Michael Jackson's posthumous compilation album Michael, reaching the top 3 of Season 5 of The Voice, to co-writing "Wolves" on One Direction's Made in The A.M.
After graduating from Berklee College of Music, Will toured as a musician with the likes of Santana, Billy Ray Cyrus, Glen Frey of the Eagles, and many others. His songwriting work on Heather Headley's album Audience of One earned him 2 Grammy Awards. And propelled by a loyal and amazing fanbase known as "The #Champs," Will also made the Billboard Hot 100 with his rendition of Etta James's song At Last. In July of 2014, Will released his album Borrowing Trouble, which features the songs "Heat Of Passion" (used for HBO's 2014 fall preview) and "Eye of the Pyramid." Will also writes songs with Ryan Marshall from Walk off the Earth.
Please tell us a little bit about the instruments you play and how you go about creating songs…
Creatively speaking, between keyboard and guitar, it's kind of about where I can show the best of myself artistically. Sometimes I lay down some bass parts or banjo or lap steel guitar as well – when I really have to. I always try to keep my ears open in terms of what kind of instrumentation the song needs. In the studio, when I'm kind of building up the bigger picture of a song, I obviously kind of try to reference and compare things, and to find and gather together each song's elements. It's just really creating a foundation for each song: production-wise, songwriting-wise, and vocal performance-wise … and finally, of course, mix-wise. So what I mean is that I home in on every element I can, so that things will really work – both in my own music and in my contributions to outside projects.
As a multi-instrumentalist, as a composer, and as a great vocalist who plays in different genres, you've got such a huge choice of products that you could use. So can you tell us which microphone you use for recording in the studio, and why?
Well, for studio vocals and other instruments, I mainly use the LCT 540. It's just easy to get on tape and doesn't really peak like the old vintage mics do. I need a microphone that gives me a clean and kind of more current sound, so I usually go with the LCT 540. It really cuts through! It's also easier to work with when you want to get something done really quick and just be in the moment – you can pretty much just use the uncompressed signal, which sounds great!
And what mic are you using for live gigs?
I always use the MTP 940 CM handheld condenser mic for live gigs. I like that microphone's multipattern design, which allows you to get more of the room sound if you want. You can also get a more directional sound, which I use most of the time and which is great when I do acoustic guitar looping stuff. I've tested it on stage alongside all kinds of other mics, and for me, the MTP 940 CM stands out!
Links
---
Related content