Blog
True love for great sound unites us. 
LCT 540 S Field Recording Diary II
This time, I've been heavily involved in sound design for motion pictures.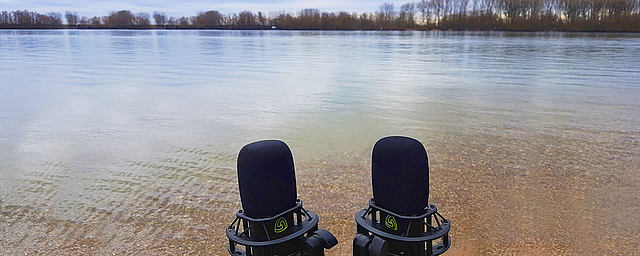 Welcome back to the second part of my Field Recording Diary. This time, I've been heavily involved in sound design for motion pictures. 
Here are the two projects I'd like to talk about:
Die Flaschenpost Insel is a German feature film production based in Wiesbaden. This movie, directed by Toni Kurtin and produced by Corinna van Eijk, is about an adopted girl who receives an old album with photos of her biological parents as a birthday present that leads her on a journey of discovery to her own roots. Essentially, it's a drama with comedic elements and a naturalistic feel – which the dialogue, ambiences, and SFX all had to match.
The second project I worked on is a short film called Golden Record. It was directed by Klaus Merkel with Artur Ortlieb as director of cinematography and Larissa Bonitz as production designer, and it was produced by the Film Academy Baden-Württemberg. In this sci-fi utopia, the main character is the last human survivor. The Earth has become a dry, dying place, and it's in this hostile world that we meet our character Nova, a survivalist at war with all the machines that now rule Earth. On one of her forays, she not only gets hold of some water but also stumbles across the Voyager Golden Record from the eponymous unmanned spacecraft. The contents of this golden record trigger a strong emotional reaction in her that – miraculously – produces rain, a symbol of life and hope.
1. Ambience Recording


 
In contrast to my first field recording diary, which I wrote while recording pristine natural ambiences, this second part will be more about urban and suburban environments.
These environments are basically characterized as lo-fi. In a lo-fi soundscape, specific individual signals are obscured within an overly dense sound population that can be described as a wall of blurred-together sounds that are dominant and always present.
As a result, spatial image, definition, and perspective get lost within a few meters' distance from the source, thereby melting into that typical diffuse city background rumble. 
These environments are often described as busy or noisy, with lots of everyday sounds cutting through here and there. It's actually a red flag as to how large parts of our sonic habitats in urban areas consist of background noise with so much constant low-frequency energy. This could be associated with elevated stress levels in the population, resulting in various health issues.
The acoustic ecology movement seeks to raise awareness of how much noise we expose ourselves to on a daily basis. We paradoxically tend to no longer notice this, since we've become accustomed to passive listening because of our environment and modern-day listening habits.
In this context, field recording offers the opportunity to better perceive your acoustic environment and to rediscover an active form of listening. So grab your mics, everyone, and go out and record your surroundings! It's really fun and helps you sharpen your sense of hearing.
 
Die Flaschenpost Insel
First, I'll write about my involvement in the feature film Die Flaschenpost Insel. I was called in pretty late in this project's production cycle. I had literately two weeks to record all the surround-ambiences and the Foley sounds as well as to provide support in the form of hard effects from my personal library.
And then the whole thing had to be mixed and delivered as a surround mix for cinemas in about one week. Which all means that I was in a rush to make it happen.
Normally there are extensive prop lists, spotting sessions, and cue-lists involved. Since that wasn't possible within this timeframe, what I did was to mark all of the scenes with markers and use empty midi regions for all relevant sound cues and write down a rough prop list on the fly.
That way, it only took me about 30 hours to get through 90 minutes of film. This is a perfect example of a quick-and-dirty workflow for one-man shows in indie film productions. While you don't really need more, having at least this organizational structure is essential in order to keep the production on track.
Links
---