Blog
True love for great sound unites us.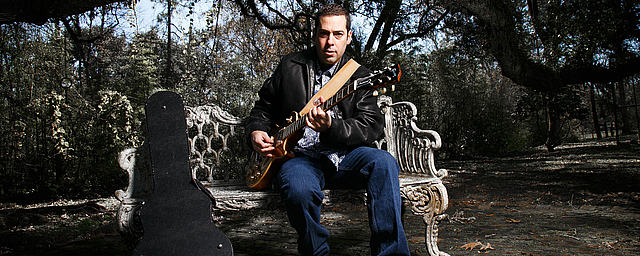 Albert Castiglia earned his blues cred as a member of Junior Wells's band, but at this stage of his career, such résumé details have become irrelevant. His incendiary guitar work and his strong, raspy, and emotive vocals, combined with the skills of a fine tunesmith, have brought Albert to the point where, after six acclaimed albums and decades of blazing blues-rock shows, he's now been nominated for two 2017 Blues Music Awards.
Albert performs between 150 and 200 shows on the road annually and has become very discerning about what he uses as his touring gear.
[LEWITT] How's it going for you this year?
[Albert Castiglia] It's going great – I just signed with Intrepid International, which is one of the biggest blues music agencies in the world, and they're keeping me very busy. Right now, I'm getting ready to go out on the road for another 10 days after having already toured for the last three months. So it's been great getting the music out to the people, and it's been a great ride.
[LEWITT] Just a few months ago, you were nominated for two Blues Music Awards. How did that feel?
[Albert Castiglia] It felt great, and the list of nominees was pretty amazing. You know, as musicians, we don't really create music to get nominated for awards. But it certainly means something when it does happen and when you get recognized for what you're doing – it's the icing on the cake!
[LEWITT] What kind of gear are you using on the road?
[Albert Castiglia] As far as guitars go, I have a handful of Gibson Les Pauls, and I also play one by Delany Guitar out of Texas … Mike Delany personally builds all of them by hand. I'm using an Ohlinger amplifier – Ohlinger is an amp manufacturer in southeastern Ohio – and I also have a Sterling amp from Oyster, Massachusetts.
As far as my mic goes, I use the MTP 550 DM by LEWITT – and it's been holding up great on the road. It's a wonderful-sounding microphone, very clear and crisp. The first time I used it in the studio was at Don Odell's Legends – I actually hadn't even heard the videos from that session until last week, and it's been a year since we played for them, but it instantly reminded me why I use the mic – it's a great mic to have!
[LEWITT] Have you already gotten feedback from sound engineers who might not have been familiar with LEWITT before?
[Albert Castiglia] Yes indeed! Like from the sound engineer at Don Odell's studio: he looked at me pretty sceptically at first, because he'd never seen the MTP 550 DM before, but he came to me after the show and told me he loved it. So it's definitely made an impact on real sound engineers who care about sound. There are a few sound guys out there who don't care whether you sound good or not, but the truly good ones have been very positive about the mic.
[LEWITT] Is there anything you've found to be special about the MTP 550 DM?
[Albert Castiglia] It has a very clear, transparent sound that I just don't get out of an SM58. It has more of the high end and mid-range, which makes my voice sound really clear.
[LEWITT] Are there any final comments you'd like to make about LEWITT?
[Albert Castiglia] It's a company that I believe in and that I'm very proud to be involved with. I encourage all of my peers to check out their mics. I know that a lot of us musicians are creatures of habit and like to use certain types of gear, but the MTP 550 DM is definitely a microphone worth exploring.
Foto credits: Austin Britt Photography
---