Blog
True love for great sound unites us. 
23db Productions 
Denis Orynbekov and Fela Davis are the founders of 23db Productions, an audio production company that does mixing and mastering.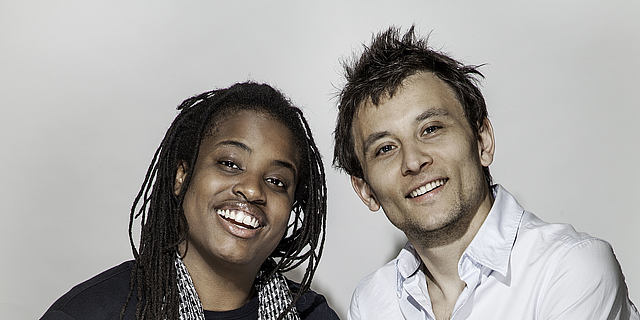 Denis Orynbekov and Fela Davis are the founders of 23db Productions, an audio production company that does mixing and mastering.
​
Fela, who's gathered over a decade of experience in audio engineering, is a front of house engineer and content creator at 23db Productions. When she's not recording, mixing, or mastering songs for 23db, she's mixing live sound for the 5-time Grammy Award-winning jazz artist Christian McBride and the Grammy-nominated guitarist Ottmar Liebert. 
​
Denis, a record producer and multi-instrumentalist, is 23db Productions' chief engineer and joins Fela in mixing Christian McBride. He's also a member of the NYC-based band The Clox. Denis has recorded, mixed, and mastered tracks that have been licensed by the MTV reality show Real World Explosion, PBS's Roadtrip Nation, Oxygen's Best In Ink, and hulu's Deadbeat.
[LEWITT] Would you please tell us a bit about your company 23db Productions?
[Fela Davis] We're specialized in recording, mixing, and mastering, and we do a lot of live sound, like when we go out on the road with 5-time Grammy award-winning jazz bassist Christian McBride. We also started doing a lot of recording with him and his big band, and that kind of led us to LEWITT microphones.
[LEWITT] Last time we met, you told us that you're a big fan of the DTP 640 REX kick drum microphone. Please tell us what you like about it and how you use it…
[Denis Orynbekov] The cool thing about the kick drum mic is that you've got a choice between the condenser and the dynamic capsule. You can also use both capsules at the same time, without any phase issues. When it comes to EQ, I usually keep it flat on the dynamic capsule, and I just add 2db around 2k on the condenser capsule so that it cuts through even better. 
[Fela Davis] It was literally the kicker, for me, when I got the Beat Kit Pro 7 with the DTP 640 REX. After hearing about the dynamic and condenser dual-element design and all the possibilities, along with how it was built, I'd done some more research. And after seeing it at the AES Convention, I got it, and then I used it on a Christian McBride gig and did a 2-track recording with it. For the first time, I actually heard the whole drum kit in a 2-track recording, where you usually lose a lot of bottom-end when you try to record live. Because you're normally trying to EQ the house, and sometimes you'll miss some of the low-end, but this time I heard the entire kit, and the kick was just right there – it was very musical. So I was hooked from that point on!
[LEWITT] Christian McBride plays with a whole jazz orchestra, of course … so please tell us more about your work with him!
[Fela Davis] They're a Grammy Award-winning 17-piece jazz orchestra complete with drums, bass, guitar, 4 trumpets, 4 trombones, 4 saxes, and a singer – who's Melissa Walker. So in that band, I have every aspect of the dynamic range. Being able to cut through while not being overwhelming with so many fantastic musicians on the stage, and doing it with ease – that hooked me! I was like "wow", I can't wait to multitrack-record – which we got to do later on. It just made a difference.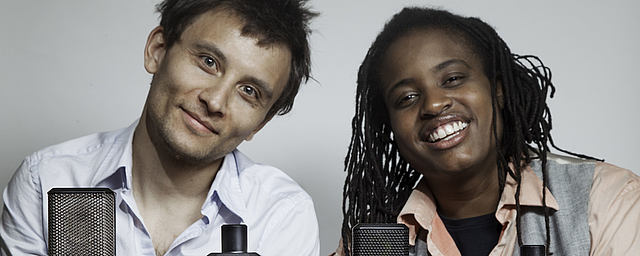 [LEWITT] Do you put the DTP 640 REX dual-element kick drum mic in a different position than the kick drum mic you used to use?
[Fela Davis] With live sound, I sometimes have to get it wherever I can get it. When I'm in the studio, I have more of a choice – but it's usually stuffed in there. It's different, EQ-ing that, but not much. You can still pretty much get any sound that you're into, whether a nice punchy sound or a bigger warmer sound; you can mix it to taste.
[Denis Orynbekov] Another thing is that the DTP 640 REX sounds consistent on every system, on every console, wherever you go. Which saves a lot of time – so it's a great option.
[LEWITT] The DTP 640 REX has a 3-position switch. Which positions do you use?
[Denis Orynbekov] We usually keep it =//=, which gives us that consistent sound that we can work around. It works for me perfectly, in the studio and live!
[LEWITT] On the toms, you rely on DTP 340 TTs. What's special about them?
[Fela Davis] Definitely their great, full, rich sound. And the brackets that hook onto the rim are just rock-solid. I've been using them for two and a half years, and they've literally gone all over the world with no problem. I mean, I haven't had one break yet, and they've been popped on and off in many venues. I just love it!  And again: not much EQ-ing. Until I started using LEWITT microphones, I didn't know that I could get a drum sound like that without a lot of help from outboard gear and plug-ins.
[LEWITT] What do you like about the LCT 340 small-diaphragm condenser pencil mics?
[Denis Orynbekov] I did a gig at a New York club yesterday, and I took my LEWITT mics with me. Usually, the venue's gear won't be that great, so I take my LEWITT mics everywhere I go. Having the DTP 340 TTs on the toms was great, but the LCT 340 is brilliant. I get great punch and attack on it, and I'm able to capture the color of the snare, which is what I used it on at my last few gigs. In live sound, the mic definitely works great on snare – top and bottom! I think this mic could also be used on acoustic guitar, hi-hat's, overheads, piano, guitar amps, and many other instruments.
[Fela Davis] I'm a huge fan of the MTP 440 DM when it comes to the snare. And I love the LCT 340 on the hi-hat, because it doesn't color its sound – which is great, because the natural sound of the hi-hat is all I want. 
I use it with the cardioid capsule, and the I adjust the pads and the filter for whatever I'm doing. This microphone offers so many great options, like the 3 low-cut filter settings and the choice between cardioid and omnidirectional capsules – so we love it!
[LEWITT] You've mentioned that you're using the MTP 440 DM on the snare; what specifically do you like about this microphone?
[Fela Davis] It's the Swiss Army knife of the LEWITT collection. I use it on horns, snare and a lot for live vocals, too. It adds no extra color, and what we're capturing is what we get.
[Denis Orynbekov] I like the MTP 440 DM on live vocals, because the sound is always open and there are no feedback issues. On the snare it'll cut through so it's always there with a nice clean sound!
[Fela Davis] We had the pleasure of using these on all the horns for a multi-track recording for Christian, and it just blew me away! In the mixing process, we tried out all-LEWITT on one show and another brand on the another show, and I really liked how much control I had over the horns. And afterwards, we were amazed at how different the mixing process was – we had a lot of work with the other brands.
[Denis Orynbekov] You're capturing a great sound and saving a lot of time with the LEWITT mics, and that's very important in both live situations and recording situations! And the LEWITT mics provide great options.
[LEWITT] What microphones are you using for live vocals besides the MTP 440 DM?
[Fela Davis] For live vocals, I like the MTP 840 DM the most, because it works great on all artists, whether it's female or male vocals. It's a great mic for whenever you don't know who or what's going to be on stage, and it's also great when you have to deal with monitors – it's a good flat mic, you can go really loud without it taking off, and the singers and entertainers usually like it, too. 
[LEWITT] Anything you'd like to add?
[Denis Orynbekov] All I have to say is thanks to LEWITT for engineering great products – professional microphones that sound great – and again, the condenser as well as dynamic microphones both work well on the different types of sources, giving you great sound in recording and live situations, which is important!
[Fela Davis] Yes, I'm so glad that I ran across you guys at the AES convention a few years back. It was the perfect time, because I'd been working at a very well-known sound company called Claire Global, where I got to use every mic on the market. So I was very well versed in what was out there, and I thought I was going to have to piece together what I liked – but coming across LEWITT just brought it all together, and now, 90 percent of our mics are LEWITTs. It's great being a part of the LEWITT family, and I really want to see LEWITT succeed.
---